India Forecasts Fastest Growth Since 2016 in a Boost for Modi
(Bloomberg) -- India's economy is forecast to grow at the fastest pace in three years in the 12 months through March, providing a boost to Prime Minister Narendra Modi ahead of a high-stakes election.
Gross domestic product will grow 7.2 percent this fiscal year, the statistics ministry said in its first official estimate published on Monday. That matches the 7.2 percent median estimate in a Bloomberg survey of 14 economists and 6.7 percent in the previous year.
Gross value added, a key input of GDP, is forecast to increase 7 percent, against a 6.5 percent expansion in the previous year
Manufacturing output is estimated to rise 8.3 percent compared with 5.7 percent expansion in 2017-18
Agriculture output will grow 3.8 percent versus 3.4 percent
Growth of more than 7 percent makes India one of the fastest growing major economies in the world, and comes against the backdrop of a slowdown in China and rising global risks
The data marks the return of strength to the Indian economy after policy shocks in the previous two years from a surprise cash ban and the chaotic implementation of the goods and services tax
The performance in the second half of the fiscal year may be more challenging as global growth moderates and export demand tapers off
Modi is preparing to spend billions of dollars on farmers' welfare, healthcare and infrastructure to buoy the economy ahead of a general election due by May
The central bank has also lent support to the government's efforts by allowing banks to restructure some stressed loans for small businesses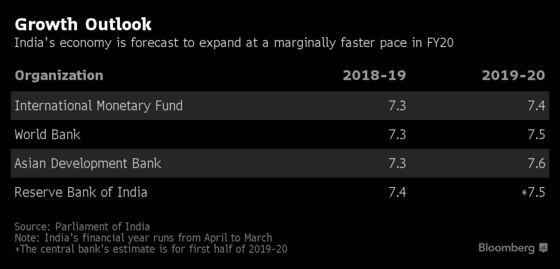 The data comes ahead of the federal budget on Feb. 1, the last by Modi's government before elections, with pressure growing on Finance Minister Arun Jaitley to provide more support to farmers. The government had forecast a budget deficit of 3.3 percent of GDP for the current fiscal year
The central bank projects GDP growth of 7.4 percent in the year through March, slightly higher than the 7.3 percent median estimate
What Our Economist Says ...
The uptick in growth in fiscal 2019 largely reflects fading of the twin negative shocks of demonetization and a new tax code implementation in the previous fiscal year. While first half of current fiscal year showed some promise of growth recovery, monetary policy errors of rate hikes and tight liquidity conditions derailed that recovery in the second half.


-- Abhishek Gupta, Bloomberg Economics