India Central Bank Likely to Cut Rate in February or April: BofA
(Bloomberg) -- India's central bank is likely to start 2019 with a rollback of one of the two interest rate hikes it delivered this year.
A 25 basis point cut in the benchmark repurchase rate may be on the cards either in February or April, Indranil Sen Gupta, an India economist at Bank of America Merrill Lynch, wrote in a note. BofA's call is based on rising real interest rates, which may prove to be a drag on economic growth, and an overestimation of inflation risks.
It follows a somewhat less hawkish comment from the Reserve Bank of India on Wednesday, when Governor Urjit Patel said the rate-setting committee was open to adjusting policy if upside risks to inflation don't materialize. The RBI, which raised rates twice this year by a total 50 basis points, sharply lowered its inflation forecasts for the second half of the fiscal year amid a slide in crude and food prices and a rebound in the rupee.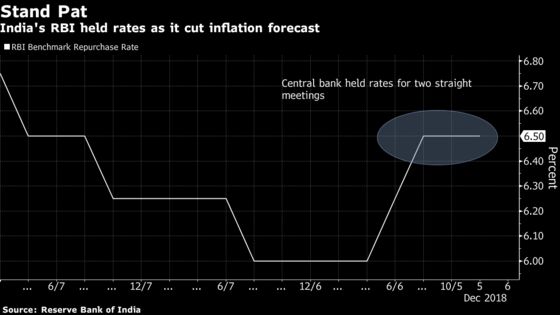 The RBI cut the inflation forecast for the second-half of the year through March to 2.7 percent to 3.2 percent from a range of 3.9 percent to 4.5 percent. The RBI's target is to keep inflation at 4 percent over the medium term.