Biggest Storm in 20 Years Spurs South Asia to Evacuate Millions
(Bloomberg) -- The biggest cyclonic storm over the Bay of Bengal in about two decades has slightly weakened before hitting the coasts of India and Bangladesh on Wednesday, with authorities making preparations to evacuate more than 5 million people to safer places.
Cyclone Amphan, equivalent of a category 4 hurricane at present, is expected to have a sustained wind speed of 200 to 210 kilometers (124-130 miles) per hour, according to the India Meteorological Department. The speed may rise as high as 240 kilometers per hour, the weather office said.
Bangladesh is evacuating 2.2 million people from coastal districts, State Minister for Disaster Management Enamur Rahman said at a media briefing in Dhaka. The country plans to raise the danger signal to the maximum level at 6 a.m. Wednesday and it will be impossible to evacuate people after the "great danger signal" is announced, Rahman said.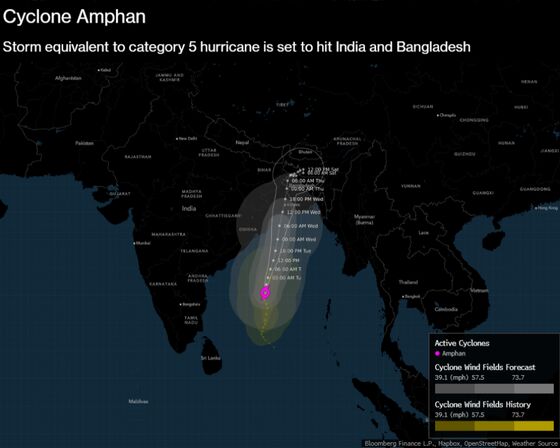 The storm will be intense enough to damage crops, plantations, trees, mud houses and communication and electric poles, as well as disrupt road traffic and transportation of essential goods. Large boats and ships may get torn from their moorings, according to the meteorological department. The storm threatens lives of people and animals as the wind speed is likely to be as high as 185 kilometers per hour during its landfall.
The cyclone is set to cause further miseries to India and Bangladesh, which are witnessing a slump in economic activities, like many other countries, due to the coronavirus pandemic. The Indian economy is headed for its first full-year contraction in more than four decades, while Fitch Solutions in April lowered Bangladesh's GDP growth forecast.
Amphan is forecast to be the worst storm over the Bay of Bengal since the 1999 super cyclone that hit the eastern Indian state of Odisha, Mrutyunjay Mohapatra, director general of the weather office, said Tuesday. India's worst-ever cyclone had killed about 10,000 people in the state two decades ago.
The severe cyclonic storm is expected to cross coasts between Digha in India and Hatiya islands in Bangladesh during the second half of Wednesday, the weather department said. Some places in Odisha and West Bengal are forecast to receive heavy rainfall.
Bangladesh has prepared 12,078 cyclone shelters in coastal districts for 5.19 million people, Rahman said Monday. The south Asian nation suspended river transport, including ferry services from all five piers, as the storm moves closer to the coast, according to water transport authorities.
In India, about 25 teams from the National Disaster Response Force have been deployed on the ground, while 12 others are ready in reserve, Indian Prime Minister Narendra Modi, who held an emergency meeting on Monday to review the preparations, said on Twitter.
Almost 300,000 people have been evacuated and put into relief centers in West Bengal, Chief Minister Mamata Banerjee said in Kolkata on Tuesday. "We will try to maintain social distancing as much as possible," she said.
Odisha plans to immediately evacuate about 130,000 people. The state has already moved 20,000 people to safer places and the operation will continue until Tuesday, said Pradeep Kumar Jena, special relief commissioner of the state. Odisha has about 560 permanent cyclone shelters and identified more than 7,000 public buildings as temporary places to keep people, he said.
Fishing operations should be suspended in Odisha and West Bengal until May 20, the India Meteorological Department said in the statement.
Heavy rainfall is expected at some places in West Bengal during the landfall, Mohapatra said, adding that the storm could result in large-scale damage. High tidal waves are likely to inundate low-lying areas in parts of West Bengal, he said. Some places in Odisha may receive heavy showers on Tuesday and Wednesday as the storm passes closer to the coast.
State-run Indian Oil Corp., which has a coastal refinery in Odisha and another plant in West Bengal's Haldia, is monitoring the situation and has activated emergency plans, Refineries Director S.M. Vaidya said in a Twitter post.