India Assets May Fall With Modi's Party Expected to Be in Close Election Races
(Bloomberg) -- India's stocks, rupee and bonds fell on Monday as exit polls showed Prime Minister Narendra Modi's party is set for tight electoral contests in key states before general elections in 2019.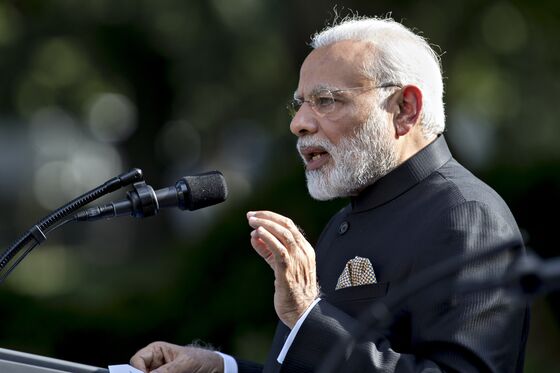 Six major exit polls showed Modi's Bharatiya Janata Party and the opposition Congress party neck-and-neck in the central Indian states of Madhya Pradesh and Chhattisgarh, which are considered BJP strongholds. Results are due on Dec. 11.
Also weighing on investors is the prospect of higher oil prices after producer nations delivered a bigger-than-expected production cut.
The states of Madhya Pradesh, Chhattisgarh and Rajasthan contributed significantly to Modi's landslide victory in 2014 and setbacks there may make foreign investors cautious of the risks to political stability in India.
A better result for the Congress will be a morale booster for the main opposition party and its President Rahul Gandhi ahead of federal elections expected in April.
Investor confidence in Indian assets only recently bounced back as crude oil prices slid and the Federal Reserve struck a more dovish tone. November saw the best rupee gains in nearly seven years, while local stocks saw their best month since July.
The rupee declined 0.7 percent to 71.33 to a dollar at the close after falling as much as 0.9 percent earlier.
The S&P BSE Sensex slid 2 percent to 34,959.72, its biggest loss in two months.
Yield on the benchmark 10-year bond spurted 12 basis points to 7.59 percent.
A recent resurgence in risk-taking had seen investors buy a net $868 million of shares in November after three months of selling. They also bought $889 million worth of rupee bonds last month, after avoiding the debt for most of the year.
The BJP is trying to win a fourth term in key races in Madhya Pradesh and Chhattisgarh and a second in Rajasthan.
While the first two are close, most polls indicated the Congress would wrest power from the BJP in Rajasthan. The Telangana Rashtra Samithi is expected to retain power in the southern state of Telangana while one exit poll predicted the Congress and a regional party are in a tight race for the northeastern state of Mizoram.
Exit polls in India haven't always been correct. They were indecisive for the state of Uttar Pradesh, which Modi's party ended up sweeping, and were also split on Bihar, which the BJP lost.
Equinomics Research & Advisory Pvt. (Chokkalingam G, managing director)
The short-term impact will be forgotten in a week or two and focus will shift to the trade war, oil price and economic improvement.
The stock market is concerned about stability; it doesn't matter if it comes from BJP or Congress.
The market can go into a long bearish phase if the general election proves to be a disaster. If the main political parties have to depend on 15-20 smaller parties to form government, then we will have to forget the market for at least one or two years, he said.
Essel Funds Management (Killol Pandya, head of fixed income)
If Prime Minister Narendra Modi's party has a mixed or a weak result, it might prompt the government to increase public spending and populist measures, which will lead to wider fiscal deficit; this will trigger rise in government and corporate bond yields
Crude prices spiking have impacted the rupee, which is further dampening the mood among bond investors
Royal Bank of Canada (Sue Trinh, head of Asia FX strategy)
The run of recent domestic data support our bearish outlook for the coming year, with 3Q GDP growth undershooting and the current account deficit overshooting expectations
Political news is likely to keep INR on the defensive.
Trust Capital Services (Sandeep Bagla, associate director)
Indian bonds have seen a massive rally over the past few weeks due to a change in macroeconomic factors like lower crude and inflation estimates.
Yield fall up to 7.60 percent is possible resulting from the volatility in currency markets due to the election results.
TCG Advisory Pvt. (Chakri Lokapriya, chief investment officer)
The exit polls show a tilt of power toward the opposition. However, outside the initial volatility, we don't see a meaningful impact on returns for investors over the year.
Among macro fundamentals, crude at $60-$70 bodes well for India. But we see margin pressure and some impact on profits for corporates in the quarter as the pace of crude's decline has caused volatility and disrupted hedges at a higher level.
FirstRand (Harihar Krishnamoorthy, treasurer)
The decline in the rupee is a direct reaction to oil-price spike and the current-account deficit numbers. The rupee doesn't directly react to election results.
I don't think oil prices are going to spike if you look at China import data and U.S. oil production. I think these are good levels for exporters to sell dollars.
Foreigners are more worried about valuation now and will go to markets which offer better value.
Joindre Capital Services (Avinash Gorakshakar, head of research)
If it's a 2-1 victory for BJP, then expect a strong rebound in markets to around 10,800 to 10,900 levels. Conversely, if it's a 1-2 defeat then expect a sell-off to levels below 10,500 to 10,450. In case of a defeat in all three key states, a dip in the Nifty to 10,200 also looks possible, he said.
Investors will get a good window of opportunity in the next three to four months to accumulate good quality stocks.