More Global Money, Weird Stock Slumps: A Week in China's Markets
(Bloomberg) -- Index compilers rush to provide access to China's mainland equity market, Hong Kong loses its appetite for new stocks, and the city's biggest bank lifts lending rates for the first time since 2006. Here's a roundup of what we've been talking about in China markets this week.
The debate is no longer over whether A shares have a place in international pension funds, but if and when they should take on a bigger role. Two competing index providers this week announced proposals that will bring more yuan-denominated equities into global portfolios.
The scope and pace of MSCI's proposal surprised some market watchers, triggering a rally onshore. Goldman Sachs Group Inc. says the increase in weighting could spur $41 billion of net buying from emerging-market passive investors alone in May and August 2019. FTSE Russell, which will start adding A shares to its indexes next June (a whole year after MSCI did it) said it's also eyeing the country's bonds for inclusion.
A quick reminder that mainland markets are closed all of next week for the National Day holiday, while Hong Kong starts trading Tuesday. That gives international traders a four-session head start to set the tone for the final quarter of the year.
Beware Hong Kong's sudden tumbling stocks. A Chinese biotech firm plunged as much as 47 percent after a critical report started doing the rounds on social media, attracting more turnover in two hours than most of the city's stocks do in an entire day. While Genscript Biotech Corp. denied all accusations and jumped as much as 20 percent during trading Friday, it's a stark reminder of the minefield in Hong Kong's equity market.
Grace Wine Holdings Ltd. had closed 74 percent lower on no apparent news Wednesday. This year we've had Hosa International Ltd. lose 86 percent in one session, Wuzhou International Holdings Ltd. drop 85 percent and Shuang Yun Holdings Ltd. tank 83 percent.
The Federal Reserve's interest-rate hike this week set off a wave of increases in Hong Kong. The city's cost of borrowing had remained low despite its ties to U.S. monetary policy due to the dollar peg, prompting outflows to USD-denominated deposits from HKD deposits (a no-brainer trade that got you more yield for zero currency risk). The weaker HKD forced the Hong Kong Monetary Authority to spend billions defending the peg, meaning cash wasn't so plentiful anymore and rates inevitably had to rise.
The increasing cost of money could spell bad news for the city's property market, lifting mortgage rates that have been ultra-low for years. The uncertainty over the impact on prices sent some developer stocks lower.
Hong Kong's new stocks aren't finding much love. This week's shocker debut was China Renaissance Holdings Ltd., down almost 30 percent in its first two days. Meituan Dianping, which started trading last week, is on track to drop for five straight sessions. Around 80 percent of Hong Kong's $100 million-plus listings this year are trading below their IPO prices.
Another sign that the market is getting saturated: shrinking demand from mom-and-pop stock buyers for a slice of an IPO. Shandong Gold Mining Co.'s retail tranche was only 0.12 times oversubscribed, following tepid interest in China Renaissance and Meituan, which drew orders for around 0.8 times and 1.5 times the total amount of stock available, respectively. Compare that to 1,557 times for a Chinese eye-clinic chain at the height of Kong Kong's IPO frenzy in January.
In keeping with the Hong Kong rate theme, this chart shows how Hibor's finally catching up with its global counterpart. Read more here.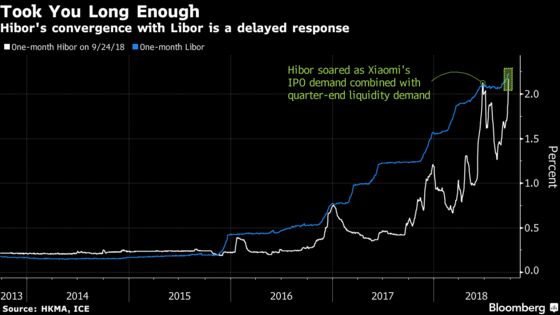 Here's what else caught our eye.
Could Hong Kong's equity bulls finally get some reprieve?
A slowdown in China's private funds industry may worsen.
Lenovo is China's hottest tech stock after its Hang Seng rejection.
It may be profitable for China to start buying U.S. soy again.
A look at the 5G rollout's biggest winners and losers.
China's sovereign wealth fund is bleeding senior managers.
The crypto world's soaring volumes look suspect.
And yet they're moving into the world's priciest offices.
China may order more planes from Europe instead of the U.S.
Independent oil refiners are joining forces to survive.