Independence Would Hurt Scotland More Than Brexit, LSE Says
(Bloomberg) -- Separating from the U.K. would cost the Scottish economy up to three times as much as Brexit and rejoining the European Union might even increase the damage to trade, a study predicts.
Modeling by the London School of Economics Centre for Economic Performance found that Scottish residents' incomes would fall by up to 8.7% if the union split. The cost of trading between the two sides of the border would increase by almost a third.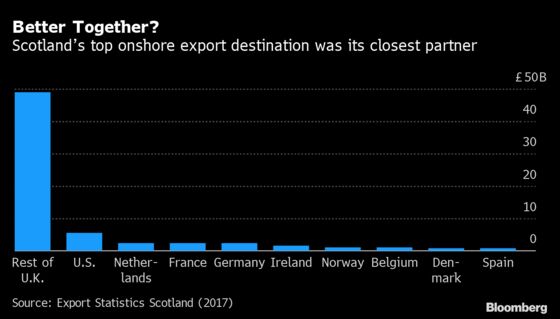 The U.K.'s departure from the European Union has reinvigorated the drive for Scottish independence just a few years after the 2014 referendum. The country voted overwhelmingly to stay in the EU in 2016.
Now U.K. Prime Minister Boris Johnson is unpopular while Nicola Sturgeon's dominant Scottish National Party is perceived as doing a better job of managing the pandemic. The SNP has pledged to use nationwide elections in May to seek a mandate for a legally binding plebiscite.
More than 60% of Scotland's current commerce is with the rest of the U.K., which is about six times higher than a standard gravity model would predict. An international border would also bring changes to investment flows, government spending capacity and possibly a new Scottish currency.
Read More: Covid Makes the Case Against Scottish Independence, Hancock Says
Still, Scotland becoming a member of the single market and customs union again would ramp up trade friction with its nearest neighbor -- the rest of Brexit Britain.
This option would only make economic sense if "independence is sufficiently trade-destroying that the rest of the U.K. becomes a less important trade partner for Scotland than the EU," the researchers said, so Scotland's medium-run priority "should be keeping border costs with the rest of the U.K. as low as possible."
Although the Scottish economy has fared no worse than the U.K. overall since the pandemic first struck, its fiscal position is poorer, separate analysis by David Owen, European economist at Jefferies, shows.
"Ultimately the only viable policy option would probably be a separate free floating currency, underpinned by significant foreign exchange reserves," he said in a note to clients.