In Trump Era, High-Stake Optics Overshadow G-20 Intentions
(Bloomberg) -- The forum for the world's biggest economic powers will endure, for now. But its most vocal champions had to swallow their pride to save it.
The annual meeting of Group of 20 leaders ended Saturday in Buenos Aires with a watered-down joint statement. The summit itself was overshadowed by sideline events, such as a U.S.-China truce on trade, and reflected deep divisions in a bloc founded to steer the global economy and foster a cooperative era of growth.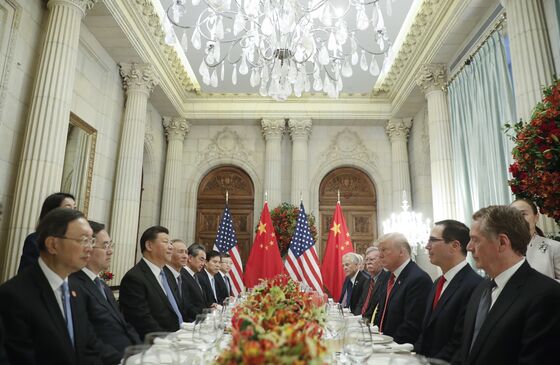 Now it seems they can't agree on much. The lack of appetite for collective action saw tricky issues relegated to hallway chats and one-on-one meetings between leaders. On some hot-button topics, a message was sent by simply avoiding talking to another leader entirely. It raised a question -- amid rising isolationism and authoritarianism, leaders' maneuvering around each other in the hallways may be where the G-20's work increasingly lies.
The populism sweeping many parts of the globe is showing up in a more transactional brand of diplomacy. The G-20 has traditionally focused on growth and economic issues. But brushing off, or simply ignoring, the main issues of the day risks being seen as tone-deaf as the world watches.
There was, for example, no official mention of the renewed standoff in Ukraine, although Russia's Vladimir Putin said he talked with President Donald Trump about it on the sidelines. Also not publicly discussed: famine in the aftermath of the conflict in Yemen or the brutal killing of Jamal Khashoggi, while Russian and Saudi leaders were, at most, gently scolded.
"All the other ones have been more successful," said John Kirton, who leads the University of Toronto's G-20 Research Group, comparing the Buenos Aires summit to previous G-20 gatherings by leaders. "But it's not a failure."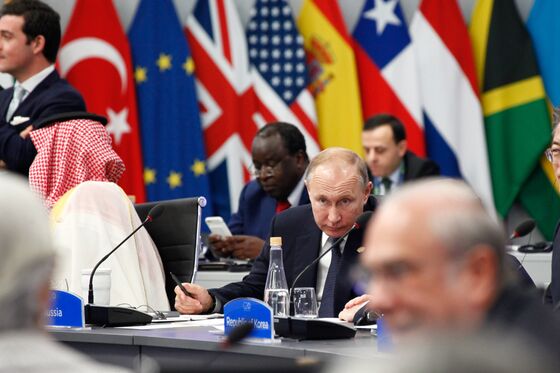 A sense of paradox hung in the air in Buenos Aires, as bureaucrats struggled to accomplish their primary task -- the drafting of the summit's communique -- under a cloud of geopolitical uncertainty playing out in real time. Some doubted there would be a joint communique, or that they even wanted to write one.
Western leaders and G-20 stalwarts, like German Chancellor Angela Merkel and President Emmanuel Macron of France, were left a choice: double down on their more inclusive form of politics and risk triggering another diplomatic collapse, after recent summit failures, or find what little common ground they could with skeptics. They chose the latter, and the statement was held up as better than nothing -- a victory in itself.
'Coordination and Consensus'
"The reality is difficult, and that is why we need to push dialogue," said Argentine President Mauricio Macri, the host leader whose task it was to keep it all together. "It's a moment of a lot of global tensions, and we can say we have reached a great level of coordination and consensus."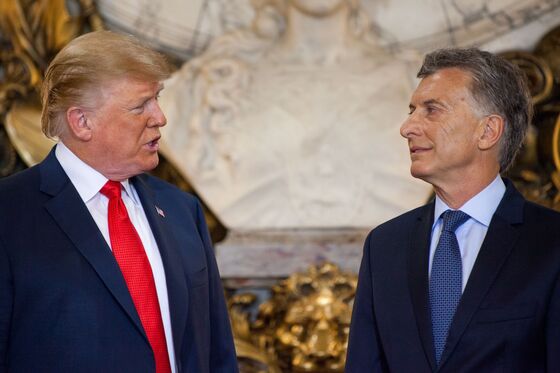 The two-day summit's significant moments came mostly on the sidelines. They included a dinner between Trump and Chinese President Xi Jinping that saw them agree to a 90 day cease-fire in their trade war; leaders' discussions with Saudi Crown Prince Mohammed Bin Salman over the slaying of Khashoggi; and the U.K.'s Theresa May's push to shepherd through her Brexit deal.
One of the summit's iconic images was that of Prince Mohammed clasping hands heartily with Putin before they sat next to each other -- a pair of leaders whose brazen interventions have tested how far their counterparts are willing to intervene.
In a nod to Trump, the G-20 communique omitted for the first time a reference to the risk of protectionism, while leaders agreed that multilateral trade was "falling short of its objectives and there is room for improvement." They agreed to continue a push for World Trade Organization reform, which will come up again at the next meeting. The document also noted Trump's exit from the Paris climate agreement.
One official involved in the talks said trade language wasn't the final hurdle, and that several countries had already resigned themselves to abandoning a reference to fighting protectionism.
Kirton said the communique nonetheless had welcome developments, like commitments on gender equality, the International Monetary Fund, and to take note of a recent U.S. government report warning of the devastating effects of climate change. This summit has always stuck to economic issues over political ones, he said. "The G-20 is not the G-7."
Some argued the results were simply a reflection of the reality that rules and practices on trade need to change from what was agreed on decades ago in the aftermath of World War Two, when the global economy looked quite different.
"If we disagree on international trade, these differences should be codified in revised rules," said Marcello Estevao, Brazil's deputy finance minister. "From my point of view, that's a victory for multilateralism."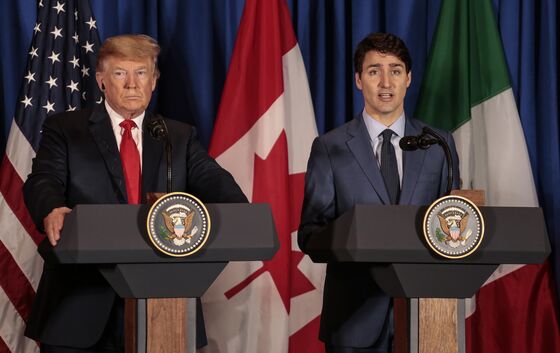 Canadian Prime Minister Justin Trudeau, whose country is already spurring talks on WTO reform while championing liberalism, rejected any suggestion of defeat. He used the summit's sidelines to speak with Prince Mohammed, with whom he's been sparring since before Khashoggi's death, and Putin, whose seizure of Ukrainian warships prompted Canada to release a G-7 statement in the middle of the G-20, yet another sign of fracture.
Trudeau defended the G-20, saying it has "has repeatedly demonstrated its worth." But he also hinted at its evolving role from a forum for consensus into something closer to bilateral speed-dating.
"The G-20 context is exactly a context where we can have these direct conversations amongst leaders," he said. "I continue to believe that conversations, frank and direct conversations between leaders, is better than not talking."