IMF Warns Europe's Firms Need Equity to Save 15 Million Jobs
(Bloomberg) -- European governments must help businesses boost their equity or face a wave of bankruptcies and unemployment that could cost 15 million jobs, according to analysis by the International Monetary Fund.
The Fund estimates massive public cash handouts during the pandemic helped save 30 million jobs, but the share of insolvent companies still increased, with small firms particularly affected. To lift European business out of danger, it said a combination of public and private support totaling 2% to 3% of economic output is needed.
"Healthier firms will forestall a return of "doom loops" between Europe's real and financial sectors," Laura Papi and Alfred Kammer, director of the IMF's European department, wrote in a blog published on Tuesday. "Most importantly, healthier firms will create more jobs."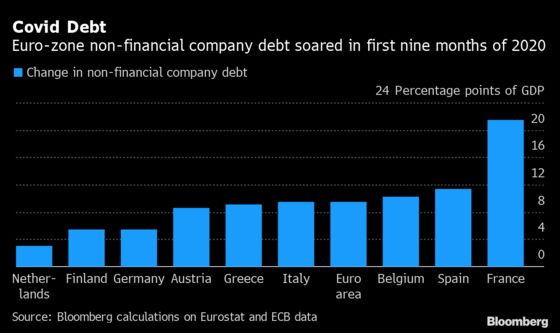 To avoid pitfalls like wasting public money trying to save non-viable firms or allowing businesses that get support to be mismanaged, the economists said there should be a principle of involving banks, so the private sector has "skin in the game."
In this respect, they cited examples of France's participative loans program, which is due to be launched later this week, and Italy's private equity injections with a government contribution for small firms, or Ireland's mechanism for assessing viability with the help of market appraisals.
But they cautioned that such initiatives come with a catch: to get the balance right, they are necessarily complex.
"Mechanisms that target firms more accurately are likely to be more complicated, reducing take-up and timeliness of the aid," the economists said.