IMF to Upgrade World Growth Outlook on U.S. Stimulus, Vaccines
(Bloomberg) -- The International Monetary Fund next week will upgrade its forecast for global economic growth -- driven by improved outlooks for the U.S. and China -- while warning of high uncertainty and new virus strains that threaten to hold back the rebound.
Economic expansion this year will be higher than the IMF's January projections of 5.5%, Managing Director Kristalina Georgieva said on Tuesday in a speech previewing the fund's spring meetings next week. Expansion in 2022 also will be higher than the IMF's prior forecast of 4.2%, she said. The fund is scheduled to publish its updated World Economic Outlook on April 6.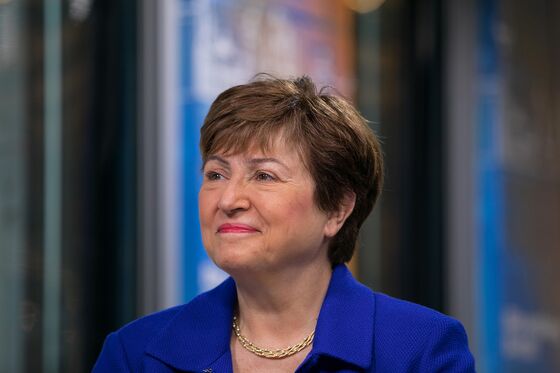 The improved view is based on additional policy support since January, including President Joe Biden's $1.9 trillion round of stimulus in the U.S., as well as a vaccine-fueled recovery in advanced economies later this year. Governments' fiscal actions have amounted to about $16 trillion, and without those moves and central bank action, last year's contraction would have been at least three times worse, Georgieva said.
Now, the world faces a multi-speed recovery powered by the engines of the U.S. and China, part of a small group of countries projected to reach pre-crisis gross domestic product by the end of this year even as millions of people globally face destitution, homelessness and hunger.
"Economic fortunes are diverging," Georgieva said in prepared remarks. "Vaccines are not yet available to everyone and everywhere. Too many people continue to face job losses and rising poverty. Too many countries are falling behind."
The cumulative loss of per-capita income relative to pre-crisis projections will be 11% in advanced economies by next year and 20% for emerging and developing countries excluding China, Georgieva said. She warned of more pressure ahead for vulnerable emerging market, low-income and fragile countries.
The IMF board earlier this month put its broad support behind the process for drafting a proposal to create $650 billion in additional reserve assets to help developing economies cope with the pandemic, with an eye on considering a formal plan by June. The issuance of special drawing rights would be the first since 2009 and the largest in the IMF's history.
Among her warnings, Georgieva flagged the danger for a rapid increase in interest rates fueled by a faster U.S. recovery to lead to a sharp tightening of financial conditions and significant capital outflows from emerging and developed economies. She urged cross-border cooperation to ramp up vaccine production, distribution and deployment; a careful scaleback in support programs as the pandemic recedes; and investment in health and education.
Some of Georgieva's other comments:
New IMF research shows that low-income countries need to deploy $200 billion over five years to fight the pandemic and another $250 billion to return to the path of catching

up to

higher income levels
Faster progress in ending the health crisis could add $9 trillion to global GDP by 2025
Financial risks, including stretched asset valuations, should be watched
Emerging and developing countries with relatively weaker bankruptcy procedures would be more heavily affected by a wave of insolvencies
A coordinated green infrastructure push could boost global GDP by 0.7% and create millions of jobs in the next 15 years
Many tax systems need to be made more progressive to provide resources for better infrastructure, greater Internet access
IMF financing to sub-Saharan Africa last year was 13 times more than the annual average over the previous decade