IMF's New Boss Voices Concern About Rising African Debt Levels
The International Monetary Fund is worried about rising debt in Africa, with about 40% of countries on the continent at distressed levels, Managing Director Kristalina Georgieva said.
"In some cases we are concerned, in others we see that investing is going to pay off over time," Georgieva said in an interview with Bloomberg TV from Berlin.
Debt levels in the region have been rising as governments struggle to collect and grow revenue while increasing their budgets. South Africa's ratio is projected to reach 81% of gross domestic product by 2028 and Kenya recently doubled its debt ceiling to match the size of the entire economy.
"We do advise Kenya to be somewhat more cautious in building debt, but we have seen good macroeconomic policies in Kenya," she said. "Our program with the country, our engagement with the country, by and large, are just as positive."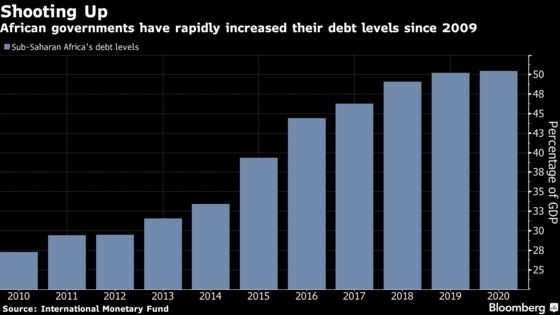 In Zambia, government debt, including publicly-guaranteed obligations, is set to increase to 92% of GDP this year, and 96% in 2020, according to the IMF.
"Debt on its own is not bad, it is bad when it goes for the wrong things, and when it goes with a speed that the economy cannot handle," Georgieva said. "In cases where debt is dangerous -- take Zambia -- we do say, you need to really get a handle on your debt. In other cases, like Ethiopia, we say you do need to renegotiate some of your debt."