IMF's Gaspar Says Italy Debt Is Sustainable, Aided by Low Rates
(Bloomberg) -- Italy's debt load remains manageable, thanks to low interest rates and the prospect of an economic recovery, International Monetary Fund official Vitor Gaspar said during a briefing.
"We do see Italian debt as sustainable, and as a matter of fact in our projections it will be coming down in the future," Gaspar, who is director of the Fiscal Affairs Department, said. Projections will benefit "from relatively low nominal interest rates that are very low in historical terms for the Italian treasury, but also the recovery in growth."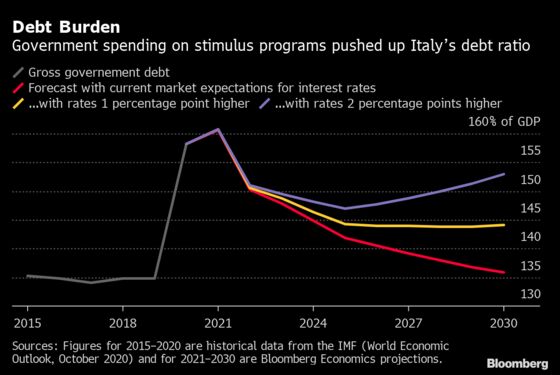 Italy slumped to a record economic contraction last year in the course of the Covid pandemic, and the IMF forecasts a rebound of just 3% this year. Government spending on stimulus programs to prop up the economy has surpassed 130 billion euros ($157 billion) so far, potentially pushing the ratio of debt to the size of the economy close to 160%.
Gaspar said the "playout of interest rates and growth are very important for Italy" adding that managing the debt will require attention and effort on the part of Italian authorities.
He also said the use of EU Recovery Fund money to improve growth prospects is key. Italy is set to receive as much as 209 billion euros in grants and loans from the EU in the coming years.