IMF Gives SNB Policy a Green Light, Urges Strategy Review
(Bloomberg) -- The International Monetary Fund gave the Swiss National Bank a green light for its controversial purchases of foreign exchange, while also recommending officials follow counterparts with a strategy review.
"In light of risks of an extended period of very low or negative inflation, monetary policy should remain accommodative, including unconventional policies via unsterilized FX intervention in case of substantial safe-haven flows and particularly strong appreciation pressures," the fund said following its Article IV assessment of the country.
The central bank's long-running campaign to fight deflation via negative interest rates and interventions resulted in the purchase of foreign currencies worth 110 billion francs ($118 billion) last year and got the Swiss censured by the U.S. Treasury.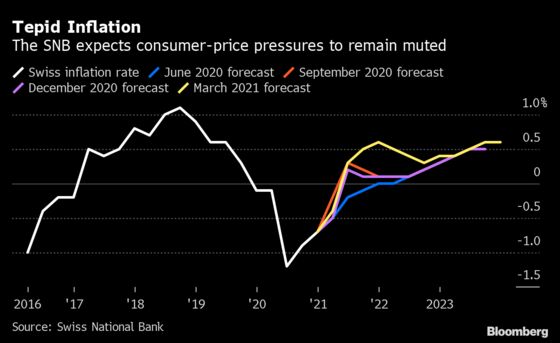 SNB officials say they're not gaming the franc for an unfair advantage and argue that the small Swiss bond market is unsuited for a quantitative easing program. The SNB's policy interest rate is already at an ultra-low -0.75%.
Persistently weak inflation in Switzerland despite the massive interventions prompted a trio of well-known economists earlier this year to call for SNB President Thomas Jordan and his colleagues to review their strategy.
The European Central Bank is also in the midst of a strategic review, which includes issues such as the inflation target and climate change.
"Like other major central banks, the SNB should continually review its monetary policy framework and tools, especially in light of the Covid-19 experience, to consider whether adjusting or extending targets, instruments, and communications would enable it to continue to respond to new challenges," the IMF said.
The fund suggested Swiss officials should do the following:
Assess whether other instruments, such as purchasing a wider range of assets or the Covid-19 refinancing facility might help achieve price stability
Examine if tax considerations, regulatory requirements contribute to domestic investors preferring to hold franc-denominated assets
IMF mission chief Mark Horton said he was ware of the restrictions imposed by the small local bond market.
"We don't see this as a sort of revolutionary change or a radical change" and more as a way of looking at how the SNB can tackle upcoming challenges, he said.
SNB's Martin Schlegel said the central bank is "continuously looking at possible improvements" to its toolkit. It was too early to say whether it would conduct a formal policy review, he said.