Iceland Rate Hike Marks Western Europe's First Tightening
Iceland's central bank became the first in western Europe to tighten monetary policy since the pandemic by raising interest rates, as officials acted to head off a spike in inflation.
The seven-day term deposit rate was lifted by a quarter-point to 1% -- a response to above-target consumer-price gains, rising labor costs and higher housing costs. The increase was the institution's first in 2 1/2 years.
Iceland's sudden shift in its policy path is standing out in a region where central banks from Frankfurt to London are still deploying degrees of ultra-loose easing to give recoveries time to take hold.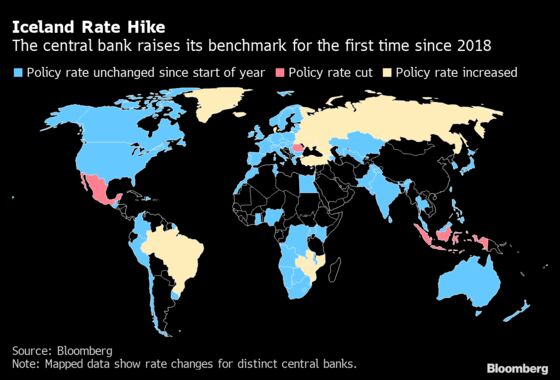 Before the decision on Wednesday, Norway had attracted most attention as a likely first-mover among its neighbors to tighten, having signaled a rate increase as soon as September. Denmark, which raised in March, did so for technical reasons rather than as a shift to remove stimulus.
Governor Asgeir Jonsson said in an interview in Reykjavik that the bank had exceeded "our own expectations" in stimulating domestic demand through conventional rate cuts. Iceland "would always need to have positive rates" due to its relatively young population and faster growth than in Europe, he added.
"We were preparing to have to use non-conventional monetary policy like quantitative easing to stimulate the economy, but in the end the need was not really there," Jonsson said.
The north Atlantic island has been more exposed to the pandemic than its Nordic peers with its all-important tourism industry suffering a body blow last year. A string of rate cuts then triggered a rally in house prices. Icelandic inflation, which includes real-estate costs, soared to 4.6% in April, well above the bank's 2.5% target.
Inflationary pressures "appear to be widespread," the bank said, citing "the depreciation of the krona in 2020 and steep rises in wages and house prices" among the factors.
While at least one analyst had predicted a hike today, most weren't expecting one until the third quarter.
With a half of Iceland's adult population already having received at least one vaccine jab, pandemic restrictions are scheduled to be gradually eased in the coming weeks.
The central bank now expects the economy to grow "just over" 3% this year and "more than" 5% in 2022, citing signs of stronger recovery in domestic demand and easing unemployment.
"The slack in the economy therefore appears to be smaller and looks set to close sooner than previously estimated," it said.