Hyperinflation Concerns Top the Worry List for UBS Clients
Clients of UBS Group AG are wondering whether central banks' massive stimulus could trigger hyperinflation, according to a list of their top economic concerns. 
In addition to what the pandemic means for consumer price pressures, the clients are also eager to know what international trade will look like down the road and how long it'll take the transportation sector to recover. UBS obtained the feedback via its question bank, a database of market-related questions asked by professional investors.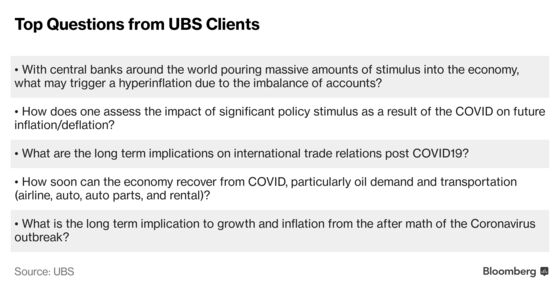 The concerns highlight the conundrum facing central banks as they continue to provide ultra-accommodative policy to help economies recover from the crisis. Commodity prices have spiked and other inputs are facing severe supply constraints, driving up inflation rates from Europe to the U.S. 
Many policy makers consider the trend temporary. Still, the Paris-based OECD warned this week that rate setters need to set out clear strategies for coping with inflation risks.