Hungary's Matolcsy Completes Full Term of Easing as Hikes Beckon
(Bloomberg) -- The author of Hungary's unorthodox monetary policy just pulled off a six-year term of uninterrupted stimulus. He may start a second with tightening.
Rate setters in Budapest kept rates unchanged on Tuesday and repeated signals that an increase in borrowing costs was around the corner, staying on course to start unwinding unconventional easing measures next month. Earlier in the day, Governor Gyorgy Matolcsy received parliamentary approval for a second term, telling lawmakers the central bank had entered a "normalization phase."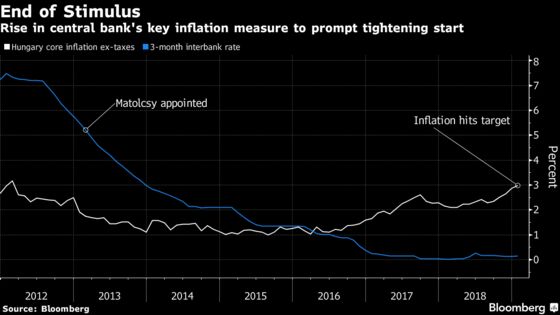 Matolcsy has persisted with his campaign of bringing interest rates to a record low and measures aimed at bolstering lending even after central banks around the world began raising the cost of money. Now soaring wages and consumption are lifting both economic growth and prices, and core inflation hit policy makers' self-described trigger for starting tightening last month.
"Core inflation excluding indirect tax effects is likely to continue to rise in the coming quarters," rate setters said in a statement after the meeting. "The Monetary Council is prepared for the gradual and cautious normalization of monetary policy."
In his parliamentary hearing on Tuesday, Matolcsy touted a growing economy that's achieved price stability. An advocate of stimulus, he rejected a lawmaker's suggestion that it was a matter of pride to end his first term without having tightened policy, pointing to fresh inflation forecasts in March that would allow rate setters to better assess the economic outlook.
According to the central bank, tightening steps will first focus on curbing unconventional easing measures via the rate corridor and foreign-currency swaps.
Forward-rate agreements, an indicator of market bets on future borrowing costs, are pricing a 76 basis-point increase in interbank rates over the next 12 months to 0.91 percent. That would keep the rates banks use to lend to each other below those of eastern Europe countries.
"Barring large surprises in the data, the stage seems set for the National Bank of Hungary to at last begin withdrawing some monetary stimulus, starting with the March 26 meeting," Morgan Stanley economist Pasquale Diana said in an emailed note.