Hungary Begins Rate-Hike Cycle in Policy Break, Boosting Forint
Hungary's central bank raised its benchmark rate for the first time in a decade to curb the European Union's fastest inflation and pledged monthly hikes as long as the price-growth outlook warrants. The forint overcame initial losses.
Policy makers led by Governor Gyorgy Matolcsy hiked the benchmark rate to 0.9% from 0.6%, as expected, on Tuesday in what was the EU's first major monetary tightening move since the coronavirus outbreak.
But it was a pledge to follow it up with new tightening steps each month -- rather than quarterly ones, as one rate-setter had suggested -- that reversed a drop in the currency as traders who had priced in a faster pace of policy normalization were vindicated. The forint rose 0.5% against the euro, erasing an earlier 1% drop.
The changes amount to "regime change for the MNB, which was the most dovish emerging-market central bank in the last decade," said Mikolaj Raczynski, the head of fund management at Noble Funds TFI SA in Warsaw, using the acronym for the central bank.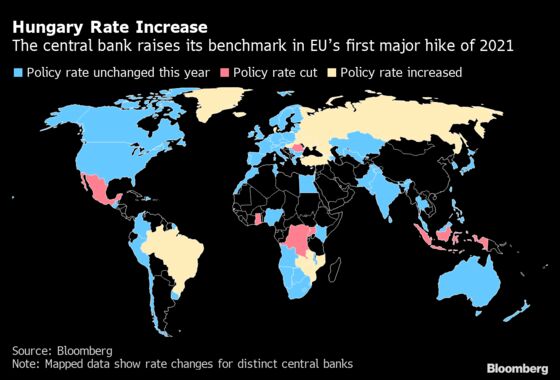 The tightening and the hawkish message showed that the some central banks in the EU's eastern wing are taking no chances with inflation, even as their bigger global counterparts continue to deliberate on whether a spike in global price-growth is transitory. The Czech Republic may follow Hungary in raising borrowing costs on Wednesday.
In a sign of the stakes, and potentially to underline a commitment to break with years of ultra-loose monetary policy, Matolcsy said Monday that Hungary risked attracting speculative attacks if it failed to act. He said an election-year 2022 budget that's poised to fan inflation combined with negative real interest rates were a combustible mix.
Investors had struggled to make sense of the tightening plans. While Deputy Governor Barnabas Virag had spoken of a "decisive" tightening move, rate-setter Gyula Pleschinger said hikes should take into account the fragility of the economy and would likely happen once a quarter.
Even after economists doubled their rate-hike forecast, they trailed the expectations of money-market traders, who are betting the three-month Budapest interbank rate -- a widely-used gauge for the prevailing interest rate in the economy -- to rise by more than 50 basis points by September to close to 1.5%.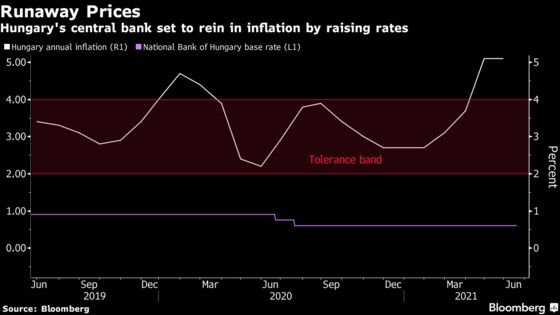 The cloudy outlook had whipsawed the forint, which has gone from the second-best performing emerging-market currency in May -- when it rose 3.7% against the euro -- to the third-worst with a 1.2% drop so far in June.
The central bank said it would continue the cycle of interest rate hikes until "inflation risks become evenly balanced." For now, policy makers said risks are clearly tilted to the upside as they raised their forecast to an annual 4.1% for this year from a 3.8%-3.9% range.
The central bank also decided to phase out its program to provide cheap corporate loans but confirmed, as expected, that it would keep its government bond purchases in place. It will also launch instruments supporting environmental sustainability.