Hundreds of Millions of Work Hours Were Lost During the U.S. Shutdown
(Bloomberg) -- While hundreds of thousands of federal employees will eventually get their back pay after the U.S. government shutdown that ended Friday, their production may be forever lost.
The closure may have deprived the economy of more than 300 million work hours that would have come from furloughed workers and contractors during the longest shutdown on record.
That calculation is based on adding the estimated more than 380,000 furloughed employees and 1.2 million contractors who would have been working, and multiplying by the most recent figure for average weekly hours for federal workers from the Labor Department.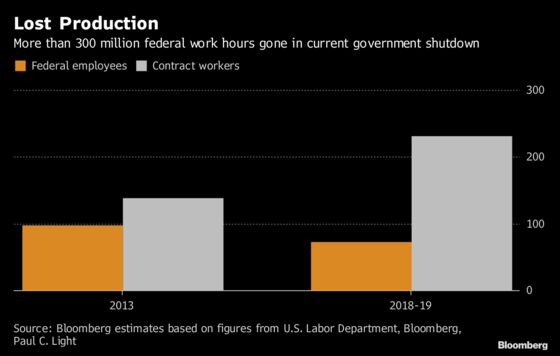 The tally of contractors is from Paul Light, a New York University professor of public service who estimated the total workers who were caught in the shutdown, from cooks to custodians.
During the 16-day shutdown in 2013, about 850,000 federal workers stayed home without pay while the latest shutdown had idled about 380,000, according to an estimate by Senate Democrats in early January. Others worked without pay.
The Bloomberg calculations are based on five weeks of missed work and don't account for holidays. The average weekly hours estimate doesn't necessarily represent all workers impacted by the shutdown.