Huawei Says U.S. Bid to Remove Lawyer Is Part of 'Agenda'
(Bloomberg) -- A lawyer defending Huawei Technologies Co. against charges that it violated U.S. sanctions on Iran told a federal judge an effort to remove its lead attorney from the case was part of a government "agenda" against the Chinese tech giant.
Federal prosecutors have asked U.S. District Judge Ann Donnelly in Brooklyn, New York, to disqualify James M. Cole as lead attorney for Huawei's defense team. They say Cole, during a four-year stint as deputy attorney general, had access to classified matters that appear to be "substantially" connected to Huawei.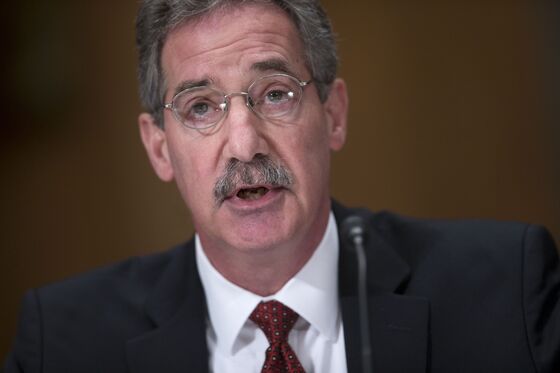 "This case is part of an overall agenda which the government has against Huawei," Michael Levy told Donnelly. "There is something of a campaign here in wanting to disqualify Mr. Cole that can be seen as one more tactical step. It's a dangerous area."
In addition to bringing the Brooklyn case, the government has filed criminal charges against Huawei in federal court in Seattle, accusing it of stealing trade secrets from T-Mobile US Inc. The U.S. has also banned Huawei's technology and accused the company of helping Beijing carry out espionage.
Cole, a partner at Sidley Austin LLP, served as Attorney General Eric Holder's deputy from 2011 to 2015. Donnelly, who didn't issue a public ruling Wednesday, held a portion of the hearing in open court, then ordered the courtroom sealed to discuss classified material and matters of national security.
During the public portion of the hearing, prosecutor David Kessler argued that while working in the government, Cole had been privy to discussions regarding a "prior matter" that had a "substantial relationship to this one."
"It's a unique case, but we don't think it's a close call," Kessler said. "The ultimate question is whether Mr. Cole was in the government's confidences from his prior representation. We believe he has had these confidences, absolutely."
While prosecutors didn't disclose what those confidences were, Levy said the "related matter" was the federal investigation of HSBC Holdings Plc. In 2012, HSBC paid $1.9 billion to resolve a criminal investigation into whether it violated U.S. sanctions laws on Iran and laundered at least $881 million on behalf of drug cartels. That investigation led prosecutors to Huawei's Iran dealings, people familiar with the matter have said.
Donnelly questioned Huawei's argument that even if Cole had been privy to classified matters or matters of national security, he should be permitted to remain on the case because he doesn't remember them. Huawei has also argued the U.S. took too long to object to Cole's working as a defense lawyer on the case.
"I take it your position is Mr. Cole doesn't remember these things," she said to Levy. "If there really is a conflict, and in the middle of the trial, all of a sudden, a memory is triggered, we don't want to be in that position, do we?"
Huawei earlier this month accused the U.S. government of orchestrating a campaign to intimidate its employees and launching cyberattacks to infiltrate its internal network. The accusations have ratcheted up tensions between Huawei and the Trump administration, which has accused the networking company of helping Beijing spy and labeled it a national security risk. Washington has blacklisted Huawei, curbing sales of the technology it needs to make its phones and telecommunications equipment.
The U.S. House Intelligence Committee said in 2012 that Huawei and ZTE Corp., China's two largest phone-equipment makers, provide opportunities for Chinese intelligence services to tamper with U.S. telecom networks for spying. Matthew Whitaker, as acting attorney general, echoed such security concerns when he announced both Huawei prosecutions in January.
Meng Wanzhou, Huawei's chief financial officer, who is also charged in the case, remains free on bail in Vancouver, Canada, while she fights extradition to the U.S.
The case is U.S. v. Huawei Technologies Co., 18-cr-457, U.S. District Court, Eastern District of New York (Brooklyn).