Goldman, HSBC to Open Hong Kong Offices Fully as Virus Wanes
(Bloomberg) -- Goldman Sachs Group Inc. and HSBC Holdings Plc are opening their offices fully in Hong Kong as a fourth wave of infections was contained and the U.S. investment bank said half of its staff in the financial hub are now vaccinated.
Both banks told staff that starting from Monday, all employees would be permitted to return to their Hong Kong offices, in a further sign that the financial hub is getting back to business after more than a year of disruptions.
Goldman Sachs, which employs 1,700 people in Hong Kong, said in a June 2 internal memo that the return to office follows an "extended period" of low reported cases, combined with about 50% of its staff declaring they had been partially or fully vaccinated. A spokesman at the bank confirmed the contents of the memo.
The U.S. lender "strongly encourages" staff who have not yet been vaccinated to do so, according to the memo. Earlier this week, the Hong Kong Monetary Authority urged all banks to push staff in client-facing roles or support functions to get shots and also asked lenders to hand over lists of staff they expect to be inoculated.
With strict quarantine and social distancing rules, Hong Kong has been one of the best places in the world in containing the virus, but its vaccination rate has lagged behind other financial centers such as New York and London. The financial hub recently announced plans to allow vaccinated directors and senior executives of major listed companies to travel in out and of the city more easily, a significant relaxation of its strict border curbs.
Bank of America Corp., which employs about 1,600 people in Hong Kong, also earlier this week unveiled plans to get all of its staff back at their desks by the end of the month and encouraged its employees to get inoculated.
Hong Kong's administration is increasingly looking to enlist local businesses and institutions to help get people vaccinated, as the Beijing-backed government struggles to convince reluctant residents in an atmosphere of mistrust following widespread anti-China protests in 2019.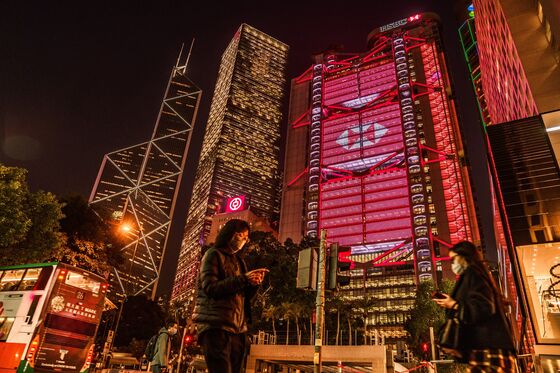 Major companies, restaurants, and even colleges have started offering cash payouts, extra time off, even the chance to win a $1.4 million apartment or a private Cathay Pacific flight around the city.
Banks including HSBC, BOC Hong Kong Holdings Ltd., Standard Chartered Plc and Hang Seng Bank Ltd. are all providing two days off to vaccinated employees, following the government's lead. Banks will also contribute to a lucky draw organized by the Hong Kong Association of Banks, in which vaccinated residents can win HK$100,000 worth of spending credit or shopping vouchers.
Others are offering both carrots and sticks. The Hong Kong Football Club, which is handing out special payments to vaccinated staff, this week warned employees who refuse inoculations that they would be skipped over for pay increases, bonuses or promotions, according to the South China Morning Post.
While the office will be fully open, remote working will continue to be an option for those who prefer it, according to an internal HSBC memo confirmed by a spokeswoman. HSBC, which has more than 20,000 employees in Hong Kong, has been allowing an occupancy rate of up to 50% in its offices.
HSBC in general has adopted a more flexible approach during the pandemic, such as scrapping the executive floor at its Canary Wharf headquarters in London and turning private offices of top staff into client meeting rooms and collaborative spaces.
A Standard Chartered spokeswoman said that as the Covid situation in Hong Kong Kong has become more stable, it has already relaxed some preventative measures.
"While critical functions will continue to operate in split teams, colleagues in non-critical functions can return to office with no split-team requirements," the spokeswoman said.
As businesses and the government have rolled out perks to those that have been vaccinated, the city's inoculation bookings have shot up. But so far only about 14.1% are fully vaccinated, compared with 43.4% in New York City, 29.9% in London, 31% in Singapore.
Vaccine access is one of the most expansive in the world, with shots including the Messenger RNA one developed by BioNTech SE and Pfizer Inc now available to residents as young as 12 years old.