At Last, an HSBC Wound That Isn't Self-Inflicted
(Bloomberg Opinion) -- At least no one can blame HSBC Holdings Plc for the coronavirus. After a series of self-inflicted blows, from its muddled search for a new chief executive to a poorly received revamp, the bank joins the rest of the industry in being blindsided by the pandemic.
The London-based lender, which counts Hong Kong as its single largest market, took its biggest charge for bad debt in almost nine years and posted a 51% slump in first-quarter adjusted profit. Expected credit losses swelled to $3 billion in the period, almost double estimates, and could reach as much as $11 billion for the full year.
Bad as they may be, the results can hardly come as a shock when efforts to contain the Covid-19 outbreak have shut down swathes of the global economy. Banks from Citigroup Inc. to JPMorgan Chase & Co. have reported large provisions for bad loans because of the economic impact of the virus. HSBC shares remained higher in Hong Kong trading after the results, though they pared morning gains.
Things could be worse. HSBC's radical overhaul, announced with its fourth-quarter results in February, makes the bank even more hostage to the fortunes of Hong Kong and mainland China, two economies struggling with the coronavirus outbreak, I noted at the time. Two months on, that looks like more of a strength than a vulnerability. China is returning to work, while in retrospect Hong Kong has contained the outbreak relatively well. The epicenter of the pandemic has swung to Europe and then the U.S., to devastating effect.
Even the eye-watering level of provisions is a testament to an underlying strength at HSBC, as Bloomberg Intelligence analyst Jonathan Tyce observes. With a core equity Tier-1 ratio comfortably above 14%, the bank can afford to be conservative in setting aside funds for the tough times that lie ahead.
Parts of that ill-timed restructuring program, announced when then-acting Chief Executive Officer Noel Quinn had yet to be confirmed, are now on hold at least until the end of the year. The bank is sticking with the overhaul, though, which includes 35,000 job cuts, a reduction in investment banking and a continuing pivot to Asia.
That strategic choice may yet be vindicated. Hong Kong and mainland China are seeing early signs of recovery, Quinn said Tuesday in his first results announcement as permanent CEO. HSBC's revenue from Hong Kong rose a better-than-forecast 3% compared with the fourth quarter, according to analysts at Citigroup. That underlines how the strongest banks can benefit from a flight to quality in bad times.
If banks retreat from Asia in the way that many European players did during the global financial crisis, HSBC will have a chance to deepen its ties in the region and pick up pieces of the supply chain that other lenders have ditched. Clients are likely to favor the large corporate banks with a global footprint such as HSBC, Citigroup and Standard Chartered Plc. HSBC is Asia's top corporate bank, with a 59% penetration of the market, according to data from Greenwich Associates.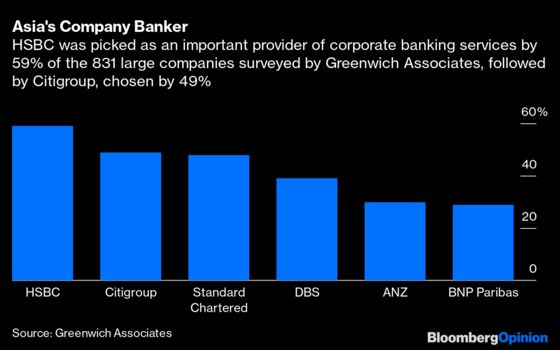 The bank can't escape responsibility for everything that has gone wrong. The $600 million that HSBC is owed by troubled Singapore oil trader Hin Leong Trading (Pte) Ltd. is a reminder that expansion in other Asian markets carries pitfalls for the unwary. HSBC has the biggest exposure of 23 banks that have lent to Hin Leong. It's telling that DBS Group Holdings Ltd., Singapore's biggest bank, is owed only $290 million.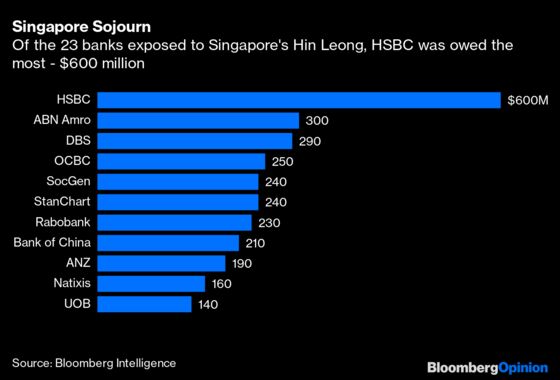 HSBC's results are hardly cause for wild celebration. In a landscape that's largely bereft of good news for banks, though, there are worse places to be.
This column does not necessarily reflect the opinion of the editorial board or Bloomberg LP and its owners.
Nisha Gopalan is a Bloomberg Opinion columnist covering deals and banking. She previously worked for the Wall Street Journal and Dow Jones as an editor and a reporter.