How U.S. Soybeans Can Skirt Trade-War Tariffs to End Up in China
(Bloomberg) -- U.S. soybeans can still make it to China without paying the 25 percent tariff -- they just have to take a 5,500-mile (8,850-kilometer) diversion via Argentina.
Here's a step-by-step breakdown of how the trade would happen.
American soy shipments to China are slumping after the Asian giant slapped tariffs of 25 percent on U.S. beans -- a retaliatory blow in the bubbling trade war. China has subsequently turned to Brazil for supplies, but the South American country alone can't slake its thirst.
Neighboring Argentina is therefore emerging as an option.
Step 2: Argentine Crushers
An unusual flood of U.S. beans to Argentina could be processed by that nation's huge crushing industry and sent to China as soy meal. Argentina is the world's biggest exporter of meal, made from the crushed oilseed and used as animal feed.
Beans from the U.S. are going to Argentina after one of the worst droughts in decades crippled production on the Argentine Pampas. Processors such as Cargill Inc. and Bunge Ltd. are cranking up purchases of foreign supplies to make up for the shortfall.
Argentina has so far planned imports of 922,000 metric tons of U.S. beans for this season and next. That's the most in 20 years.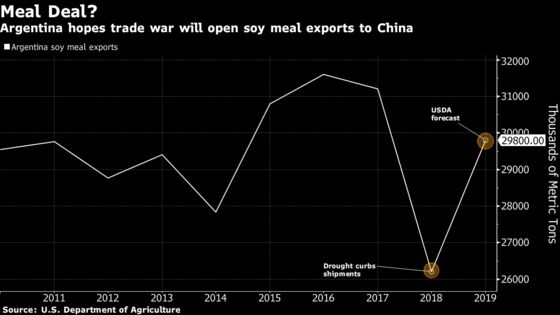 China traditionally eschews purchases of meal, which it uses to feed its pig herd, the world's biggest. Instead, it prefers to boost its own crushing industry by purchasing unprocessed soy. But the struggle to find enough raw beans amid the trade feud has opened a rare door for Argentine meal.
Argentina's crushing plants cannot currently send soy meal to China. A November trade mission to Beijing aims to finalize regulations that would pave the way for shipments, said Gustavo Idigoras, president of Ciara-Cec, the nation's crushing and crop export chamber. The group's members include Cargill, Bunge and other giants of agricultural trading like Louis Dreyfus Co. and Cofco Corp.
Argentina Ships Soy Oil to China, 1st Time in 3 Years: Minister
The scenario would be like "shuffling deck chairs around on the Titanic," Arlan Suderman, chief commodities economist at INTL FCStone, said by phone from Kansas City, Missouri. Soybeans still get traded, but the diversion means "China can say: 'At least I didn't buy from the U.S.' "
At the same time, a recent change in Argentina's export taxes may promote raw soybean sales, leaving processors in the lurch. The few unprocessed beans that Argentina already ships go almost entirely to China. The change means those beans and processed meal will soon be taxed at the same rate. Argentina had for years levied 3 more percentage points on raw beans to favor crushing, which helps the economy by adding value.