Trump Claims Credit for Booming Job Market That Fed Let Run Hot
(Bloomberg) -- It's the best U.S. job market in decades, and Donald Trump is clearly proud of it. What's less certain is how much responsibility he can claim.
Employers last year added the most jobs since 2015, including the strongest factory surge in two decades. Unemployment is near a five-decade low while wage gains are the best since 2009. The performance came as Trump launched the biggest tax overhaul since the Reagan era and lifted government spending, juicing an already-solid economy and labor market.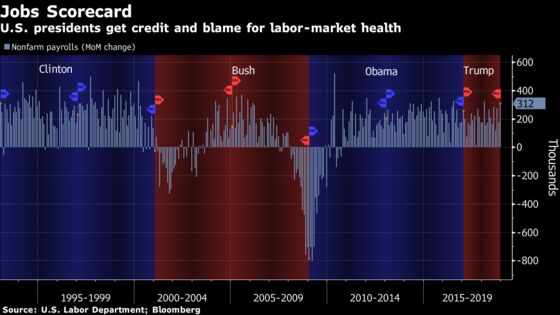 Like any president, Trump gets both credit and criticism for things under his watch. The stimulus helped deliver a growth spurt and lifted business sentiment -- which aided hiring. But analysts argue the Federal Reserve laid the foundation by keeping borrowing costs near zero for years after the recession and raising them only gradually to allow the economy to gain momentum.
Trump's actions are more "icing on the cake than a fundamental shift," said Bloomberg economist Tim Mahedy, adding the Fed was the "classic lever" for improvement. "We went from a strong economy to a stronger economy" and by extension, more robust employment in 2018 for which the president deserves some credit, said Mahedy, a former San Francisco Fed researcher.
There's no easy or accurate way to determine how many of the 2.64 million jobs added in 2018 and 2.19 million in Trump's first year resulted directly from his policies. The answer depends on who's talking and which reference points are used.
"The Fed gets credit for the course of the recovery," said Douglas Holtz-Eakin, president of the American Action Forum, which calls itself a center-right policy researcher. "But if you want to focus on the remarkable performance in 2018, that belongs to President Trump."
The stimulus provided "an enormous impulse to the economy and has to be the reason why we saw growth ramp up and the job market tighten so much," said Holtz-Eakin, a former Congressional Budget Office director who advised Republican Senator John McCain's 2008 presidential campaign.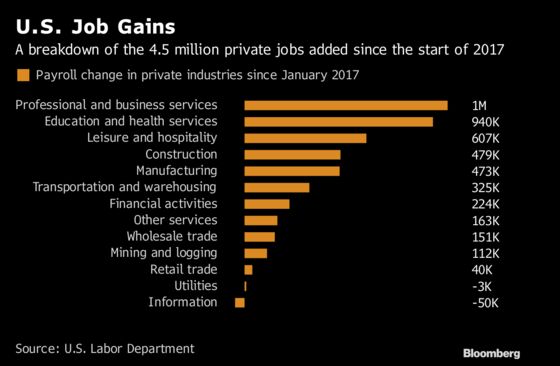 Trump on Twitter has repeatedly touted "great jobs numbers" after payrolls reports. He's also cited factory employment growth in a post taking a dig at Obama's administration.
But Neil Dutta, head of U.S. economics at Renaissance Macro Research LLC, points out that Trump entered office "on the front edge of a cyclical upturn in the global economy." Rising oil and commodity prices supported big job gains in goods-producing sectors in Trump's first year, when "we didn't even have any policies yet."
The 201,000 average monthly pace of payroll increases for 2017-18 isn't much different from the prior two years' 211,000. Bloomberg's Mahedy said that's unsurprising because "presidents have less of a direct impact on the economy than they like to think they do."
The larger economic environment is also shaped by forces such as policies in train from previous administrations, global growth, monetary policy and one-time or external events.
Recession-related job losses following the financial crisis overshadowed Barack Obama's early years before employment bounced back, while George W. Bush's first term included the Sept. 11 terrorist attacks, a brief slump and the so-called jobless recovery. Bill Clinton's presidency saw an employment boom during what ultimately was a record-long expansion.
Holtz-Eakin said Clinton's presidency was one of two notable times when the job market outperformed expectations, with unemployment falling dramatically and productivity picking up noticeably. Now, he said unemployment is also low under Trump, though history will show whether productivity is accelerating.
Meanwhile, better employment prospects are drawing more workers into the labor market, boosting the participation rate, or share of working-age people who have or are seeking work.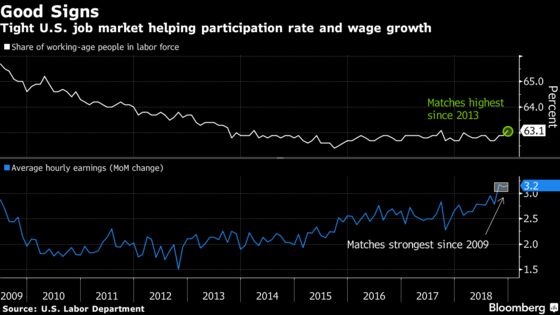 While Holtz-Eakin said that's "helping the most marginalized and likely the least well-off Americans," and is "a huge success" for Trump, many economists credit former Fed Chair Janet Yellen's policy of holding interest rates low to strengthen the job market.
With job openings exceeding the number of unemployed people, pay is gradually rising. Companies such as Amazon Inc. and Walmart Inc. are raising minimum wages, as are states and cities. Construction and retail jobs have grown even amid a housing slowdown and closings at chains such as Sears Holdings Corp.
White House Council of Economic Advisers Chairman Kevin Hassett says the administration has prioritized bringing factories back to the U.S. and the economy has "snapped out'' of the less robust growth during Obama's tenure, despite Trump's trade war.
"There might be a lot of things you disagree with him about, but you'd have to concede that the corporate tax cuts and the deregulation have created, you know, a big surge," Hassett said in a recent CNN interview.
Still, the trade war with China -- a centerpiece of Trump's policies -- has been whipsawing global stock markets, hurting business sentiment, and may be "more corrosive to growth this year," said Diane Swonk, chief economist at Grant Thornton LLP. The sugar high from fiscal stimulus is expected to wane, even as the budget deficit balloons.
While it's notable that payrolls growth is faster than would be expected in the expansion's 10th year, the test will be how employment fares from here on amid headwinds including global-growth concerns and the trade war.
Without tax cuts, 2018 employment would have been less robust though still "pretty good," Dutta said. "If we continue to generate strong job growth in the back half of 2019 then there's something to be said."