How Markets Won: Erdogan Concedes a Hated Rate Hike to Save Lira
(Bloomberg) -- Until the last moment, Turkey's president was adamant. The lira's downward spiral was just a bout of temporary volatility. There was no need for higher interest rates.
But three of Recep Tayyip Erdogan's top officials had been working for days on a plan to stem the rout with an emergency hike. On Wednesday, as the currency's slide accelerated, they put it into action, according to a person familiar with the process -- and won Erdogan's support. That evening the central bank raised its late-liquidity rate by 300 basis points to 16.5 percent. The lira rebounded.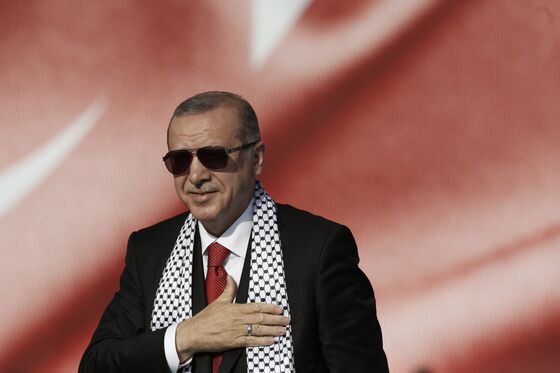 It was the latest skirmish in a long war between Erdogan and the markets. The president, who on Thursday launched a re-election campaign that may provide the toughest electoral test of his 15 years in power, is an outspoken advocate of cheap money. He's up against investors demanding higher returns to fund an economy beset by inflation and a swollen current account deficit. They won this round.
Turkey's central bank -- one of the few actors with channels open to both sides -- has often been been stuck in the middle of that conflict, taking fire.
The bank's governor, Murat Cetinkaya, was one of the small group of top officials who'd been laying the groundwork for a rate-hike over the past three days, according to the person familiar. The others were Deputy Prime Minister Mehmet Simsek, a former Merrill Lynch economist, and Prime Minister Binali Yildirim, who ended up taking the plan to Erdogan on his own.
By then, on Wednesday afternoon, the lira was really tanking. It plunged as much as 5.2 percent, taking its drop this year past 20 percent. Turkish companies, heavily indebted in foreign currencies, faced a growing risk of default. An economy that grew faster than China last year threatened to crash just as Erdogan was hitting the campaign trail.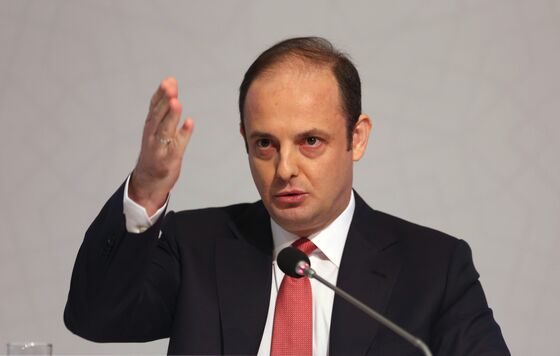 Turkey's central bank has legal autonomy. But the officials didn't want to act until the president was fully on board, because his communications carry as much weight with the markets as central-bank actions, the person said.
Speaking in Ankara after the rate increase, Erdogan suggested he'd given a green light. "We'll continue to abide by the global governance principles on monetary policy," he said. There was a caveat: Turkey won't allow those principles to "finish off our country."
A day later in a speech that official kicked off his campaign for re-election in a June 24 vote, Erdogan didn't mention the lira or the rate increase at all, keeping his remarks on the economy to a minimum. He reiterated his commitment to an open economy and to curbing inflation and narrowing the current-account deficit.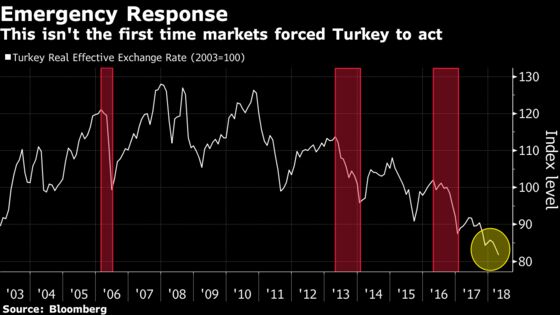 Barring the world recession that followed the collapse of Lehman Brothers in 2008, Turkey's economy has largely stayed out of trouble on Erdogan's watch. But it was a financial crisis that brought him to power.
Established political parties were swept away by the crash of 2001, the worst in Turkey's modern history, when the lira lost half its value. Erdogan's AK Party was elected in 2002. It's been governing ever since, presiding over growth of almost 6 percent a year, building hospitals, roads and schools -- and winning elections.
The Erdogan economy has always needed external financing. Turkey's current account has been in the red since 2002, and for several years now it's been running one of the world's biggest deficits. Foreign cash, probably about $50 billion this year, is required to plug the gap.
What Our Economists Say

"There are plenty of reasons for investors to take flight -- sudden shifts in foreign policy, a serious current account deficit, large foreign currency-denominated debt, and a continued slide toward lasting autocracy. For the lira to stage a bigger revival it would take another larger movement in rates, at the very least."

--Jamie Murray and Ziad Daoud, Bloomberg Economics

See Turkey React for more
It wasn't a problem early on. Emerging markets were awash with liquidity around the middle of last decade. And it wasn't a pressing problem after the Great Recession, because Federal Reserve stimulus maintained the flows. But since 2013, when the Fed began to step back, there have been signs of strain -- and Erdogan has increasingly weighed in on monetary policy, turning the central bank into a hotseat.
Governor after governor has come under fire as Erdogan insisted rates weren't low enough. Investors were demanding the opposite: Higher returns.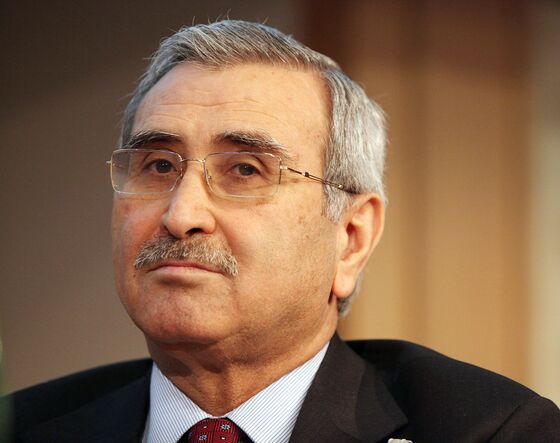 Politicians always try to influence central bankers, said Durmus Yilmaz, who held the bank's top job from 2006 to 2011. The AK Party was still consolidating its authority in those years, he said. Since then, "their confidence has peaked. They began to feel like they were no longer bound to play by the rules. The economy was part of that."
Yilmaz wasn't reappointed. His successor, Erdem Basci, started out as an AK Party protege -- and ended his term reviled by Erdogan as a traitor and a failure.
Cetinkaya was also considered "one of us" by senior AK officials, according to dozens of conversations with colleagues and associates over two years.
He was working at the Islamic lender Kuveyt Turk Katilim Bankasi AS when the central bank came calling. The recruitment process was a bit like the traditional Turkish ceremony where a groom's father asks the bride's family for her hand in marriage, according to one person familiar with it. Cetinkaya's employers didn't want to lose him -- but they understood that the proposal came from high up.
At the central bank, peers could see that Cetinkaya was marked for a top job as soon as he walked through the door in 2012. He kept out of office politics and established a reputation as a slightly distant but sympathetic boss. As governor since 2016, he's said to be a workhorse -- rehearsing answers to hundreds of hypothetical questions the night before a big press conference.
His delivery at those events has been criticized for blandness. Many economists have stopped attending, requiring the central bank to deploy its own personnel so the room looks full.
Lira investors would probably settle for a little tedium right now.
But there's no guarantee that Cetinkaya's rate move will put a long-term floor under the currency -- and it will likely create problems of its own. Higher borrowing costs could lead to "an erosion in balance sheets of corporates, which will in turn be reflected in banks' books," according to Nomura International economist Inan Demir. The lira on Thursday was down 4.2 percent to 4.7768 per dollar at 5:37 p.m. in Istanbul.
Erdogan is working to a political timetable. With an economy running hot, he pulled elections forward from 2019. Polls place him well ahead of rivals, but short of the 50 percent needed for a first-round victory on June 24. The president told Bloomberg TV he'll exert more control over monetary policy if he wins.
Political risks are adding to the volatility on Turkish markets, said Nihat Bulent Gultekin, who headed the central bank in the 1990s. He quit early amid disputes with the government of the day, and says he sees similar conditions now.
The central bank can't fix all the economy's problems via interest rates, and what's needed is a wider set of measures, according to Gultekin, who's now an associate professor of finance at the University of Pennsylvania's Wharton School. But Erdogan's government is "in campaign mode," he said. "Committing to such a program would amount to an acknowledgment of mistakes."