How Hot Is Hot? Powell's Fed Faces Label-Defying Labor Market
(Bloomberg) -- If Jerome Powell has a worry list, he's made it inescapably clear that a hot labor market kicking off runaway inflation isn't item No. 1.
"We're not seeing it yet -- you know, we just aren't -- and we're watching very carefully," the Federal Reserve chairman said of breakout inflation at his press conference Wednesday.
His calm is a little surprising, given the Fed's economic forecasts, and it underlines that the Powell Fed will rely heavily on what it can observe in the economy as it weighs further interest-rate increases.
Theory used to say that pushing joblessness below its longer-run level would overheat prices. That idea has lost its persuasive power: The Fed's September projections show years of seemingly hot labor markets with little inflation overshoot.
While that matched June estimates, it surprised some policy watchers that officials didn't revise down their 4.5 percent longer-run unemployment forecast to better align with today's reality of a 3.9 percent jobless rate and low, stable price gains.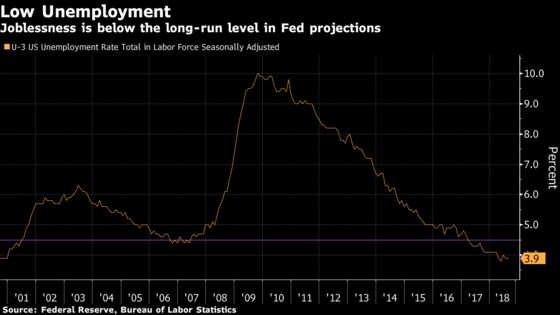 "What does the longer-run natural rate of unemployment mean?" Powell rhetorically asked when queried about the seeming disconnect during his post-meeting press conference. "That really is a longer-run concept that we think the economy will return to, over the longer run, but obviously that longer run is not creating problems in the short run for that forecast."
Fed officials may be learning from recent experience. They pushed up their natural unemployment estimate post-crisis and then had to drop it back down. Instead of cutting the longer-run rate now while the economy is chugging along, they might be letting it alone.
"He's not really keen on setting policy off of things he can't see or pinpoint," said Omair Sharif, senior U.S. economist at Societe Generale in New York. "What's the whole point of unemployment below the natural rate, anyway? It's the fear of inflation picking up. If that's not something you have to worry about, who cares if you're at 3.7 for the next couple of years?"
Ditching the numerical guidepost and focusing on real-economy signs that things are getting out of hand is sort of like heating water. If you don't know the boiling point, you abandon the thermometer and watch for bubbles.
And from Powell's vantage point, real-world warning signs are scant.
"We're hearing a lot of talk of labor shortages, of material costs in a lot of industries," Powell said. "We're not seeing it. We're seeing a sort of modest increase in wages, inflation right around 2 percent, no sense of it moving up really."
Things could change, he said. The relationship between inflation and unemployment seems to have flattened out, and maybe it will steepen again. But for now, there are even reasons to believe that the labor market has a little more room to run.
"Labor-force participation has surprised us on the upside," Powell said, referring to the share of people working or looking for work. It had previously declined thanks to a mix of demographics and slack-induced hopelessness following the Great Recession. An aging population was supposed to keep it falling.
Instead, its unexpected stability is a signal "that there may be more there on the supply side -- there may be more labor supply than the prior trend would indicate," he said.
In an environment where job market strength rolls on and inflation has been contained, Powell and his colleagues are "giving preference to observed data," said Gennadiy Goldberg, senior U.S. rates strategist at TD Securities in New York. That shift is important as part of a broader de-emphasis of longer-run projections, relative to the years when Ben Bernanke and Janet Yellen led the central bank.
"Data dependence for Bernanke and Yellen was: if there's something that suggests the path forward will change, we will change," Golberg said. "For Powell, it is a matter of gauging where the economy is now."