How Draghi's Economic View Stacks Up Against the Executive Suite
(Bloomberg) -- When Mario Draghi talks about the economy, the European Central Bank president often uses abstract language such as the "balance of risks." For a real-world view, there are thousands of companies that can add color to the story.
With the corporate earnings season in full swing, businesses from across Europe are giving their take on a quarter that saw the region's largest economy stall, trade tensions weigh on demand and higher energy costs eat into profit margins. Amid a global selloff, European stocks have fallen sharply this month.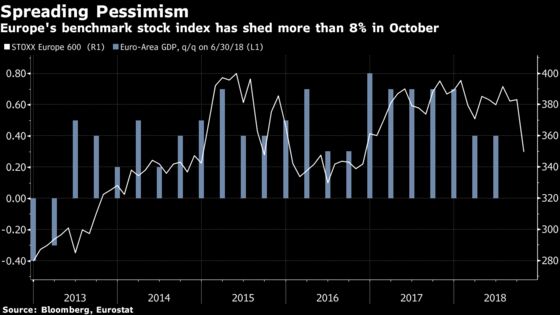 Ahead of third-quarter gross domestic product on Tuesday, here's a look at what policy makers say and how it squares up with companies' assessment:
Draghi acknowledged "somewhat weaker momentum" in the euro area and pointed to problems in some parts of the economy. "Think about the car sector in Germany," he said. The Bundesbank pinned a "temporary halt" in growth on automakers' struggles to adapt to new emissions testing procedure, saying that resulting production losses left "deep marks."
Volkswagen AG has said meeting delivery goals while avoiding deep discounts this year will be a "titanic task," and BMW AG is among carmakers that have cut their forecasts. BASF SE reported profit that missed analysts' estimates as Europe's largest chemical company felt the effects of an automotive slowdown (it makes lubricant additives, exhaust catalysts and car paint). Cable manufacturer Leoni AG lowered its outlook, citing emissions tests and weakening demand in China, where the economy is cooling.
"Uncertainties relating to protectionism, vulnerabilities in emerging markets and financial market volatility remain prominent," Draghi said on Thursday. While some regions have made progress in trade negotiations with the U.S., the spat with China is ongoing.
Valeo SA's shares plunged last week after the French car-parts maker cut its profit forecast because of the Chinese slowdown. German auto supplier Schaeffler AG also expressed deep concern over the global auto market. Italian menswear maker Ermenegildo Zegna Group said Chinese consumers had become more careful in spending.
Germany's growth break "shouldn't be long-lasting" and a "considerable expansion" can be expected in the fourth quarter, according to the Bundesbank. Draghi, too, expressed confidence that economic weakness is confined.
Daimler AG struck a more confident tone last week after two profit warnings, predicting "continued high demand" this quarter. Basler AG, a camera manufacturer, boosted its pretax profit margin forecast, while machine maker DMG Mori AG raised its order outlook.
What Our Economists Say...
"After two quarters of expansion at 0.4 percent, the question now is whether the deceleration has further to run... We expect growth of 0.4 percent overall. A further slowdown would worry the ECB, but only if it extended into the fourth quarter -- that's not too likely."
-- Jamie Murray, Bloomberg Economics. Read the full Week Ahead
Ardo Hansson, Estonia's central bank chief, has highlighted the "very convincing" performance of the euro-area labor market -- a sentiment Draghi shared last week. "Private consumption is fostered by ongoing employment growth and rising wages," he said, adding that solid domestic demand is underpinning business investment.
Sales at sporting goods firm Puma SE were slightly stronger than the company expected and included growth in the high single digits in Europe, the Middle East and Africa. Heineken's beer sales in Europe benefited from good weather, with double-digit volume growth in France and the Netherlands. And at building materials giant Cie de Saint-Gobain, capital expenditure and innovation investments "continue to gather pace."
Underlying inflation in the euro area continues to be muted -- or "somewhat disappointing" in the words of Finnish Governing Council member Olli Rehn. Companies are still struggling to pass on higher costs from more expensive energy, but Draghi pointed to increases in negotiated wages as a "comforting sign" for sustained price pressures.
HeidelbergCement AG blamed a cut in its full-year profit forecast partially on energy, saying costs "significantly exceeded our expectations" and "could only partially be compensated by price increases." Finnish elevator company Kone OYJ pointed to raw materials being a "headwind" and increasing labor-cost pressures, when it reported earnings that missed the lowest analyst estimate.