How Chile's Pension System Became a Covid Piggy Bank
(Bloomberg) -- Chile's love-it-or-loathe it private pension system has long served as a pillar of the nation's capital markets. Since the pandemic hit, it's been serving another role, that of national piggy bank. Congress has passed three bills allowing savers to withdrawal billions of dollars. It's now considering a fourth drawdown, a move that is worrying investors, pulling both the finance ministry and the central bank into the fray. The proposal is also spurring fresh political debate ahead of November's presidential elections.
1. How does Chile's system work?
Private pensions were set up in 1981 during the dictatorship of Augusto Pinochet by Jose Pinera, brother of the current president, with the aim of increasing the country's savings rate, developing its capital markets and easing the long-term pressure on its budget. It's like an obligatory 401k, though with less flexibility: Workers must pay a fixed percentage of their salary into funds administered by private-sector managers. Each offer five different options with varying degrees of risk exposure. When introduced, switching was optional for workers -- albeit strongly encouraged by a government publicity campaign -- and compulsory for new entrants to the labor market. 
2. How has the system worked? 
The funds have returned an annual average of 7.8% in real terms since they were founded 40 years ago. But, for many, payouts have failed to provide a decent standard of living. In response, the government instituted a system of what are known as top-ups, which are subsidies for retirees with low retirement payouts. Without them, more than half of Chile's pensioners would be below the poverty line. Most have patchy employment records and don't manage to pay in to the system for their whole working lives. Of the 940,000 retirees who received a monthly pension in August, just 183,000 had managed 30 or more years of contributions. And the median payout for those 940,000 was $214, which added up to $311 with top-ups.
3. What's happened during the pandemic?
Since the start of the pandemic, congress has passed three laws that each allowed savers to pull 10% of their savings from their pension funds. The funds have become the chief source of relief during the economic turmoil caused by Covid-19. The government did implement a series of spending packages that grew steadily larger. But critics called them too narrowly targeted, difficult to apply for and slow to offset lost income. The pension withdrawals, on the other hand, weren't targeted at all, reaching even Chileans who had suffered no loss of income. They more than compensated for the decline in household buying power.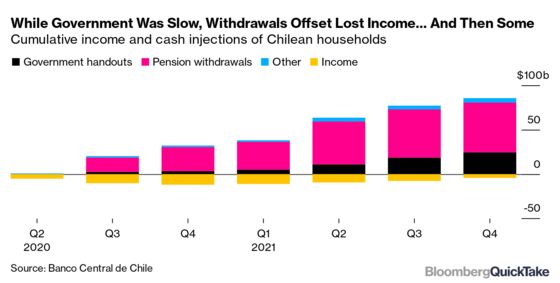 4. Why was it handled that way?
For one thing, it let congress - which acts independently of the presidency - circumvent laws that give the head of state sole prerogative over new spending proposals. And along with getting workers much-needed cash, it allowed legislators to challenge the pension system, which was already unpopular, especially with opposition voters. Improving pensions was considered by far the most urgent challenge facing government, according to a Dec. 2019 poll carried out by the Center for Public Studies, a think tank -- ahead of crime, education and health care.
5. What's the latest proposal?
Now lawmakers are debating a fourth pension withdrawal, while continuing to ponder details such as whether or not taxes will be levied on the money disbursed. They are doing so even as the pandemic fades and the country emerges from lockdowns. The economy has already recovered; gross domestic product will grow 10.8% this year while annual inflation reaches 4.3%, according to economists surveyed by Bloomberg. The lower house has already approved the proposal, which is now being discussed in the senate.
6. Who's for and against it?
President Sebastian Pinera's administration has always opposed the pension withdrawals, a stance that has hurt his approval ratings. The central bank has joined in the criticism. On Oct. 12, central bank President Mario Marcel told lawmakers that withdrawals are contributing to inflation and the weaker peso. A day after he spoke, Marcel oversaw the biggest hike in the benchmark interest rate since 2001. On the other hand, many opposition lawmakers back a new round of drawdowns, as do leftist presidential candidates Gabriel Boric and Yasna Provoste. 
7. What impact would a new round of withdrawals have?
Simply put, pension funds are Chile's biggest institutional investor, meaning that draining money from them leaves less cash that can go elsewhere in the economy. To meet payouts, pension-fund managers have to sell assets. The process has roiled markets -- and required special assistance from the central bank. Between July 2020 -- when the first withdrawal was approved -- and September, the funds cut their local share allocation by 9.8%. Pension-fund sales and the weak peso mean Chilean local currency bonds are the worst-performing in emerging markets by far this year. Another withdrawal would also mean an injection of billions into an economy that is already threatening to overheat, possibly requiring more rate hikes and forcing yields up further.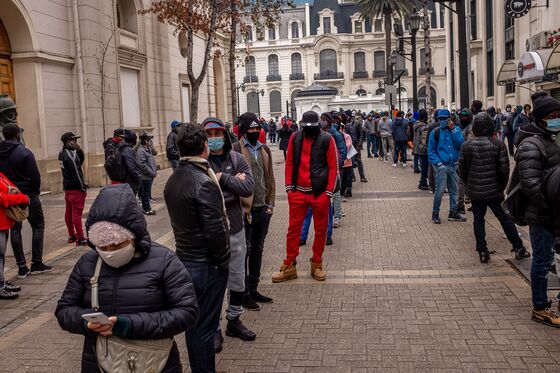 8. Why are withdrawals popular? 
For low-income workers, the monthly loss they can expect at retirement -- after government top-ups -- is small compared to the benefit of cash in hand now to pay down debt or replace lost income. Meanwhile, for those with higher salaries, there may be advantages to withdrawing money from pension funds and putting it in voluntary savings accounts. 
9. What's happened to the money?
Pension funds have paid out $48 billion so far, which is about 25% of their pre-pandemic assets. Even Finance Minister Rodrigo Cerda has said he took money out.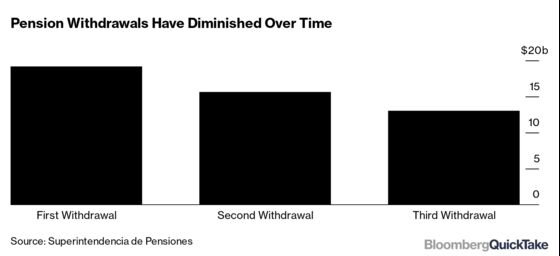 Chileans used the money to pay down debt. Late in 2019, bank consumer lending as a portion of GDP hit the highest since at least 2003, and the average interest rate on a consumer loan at the start of 2020 was 21%. Thanks to pension withdrawals, the stock of those loans fell 16% in a year. Workers also added 9.4 trillion pesos ($11.6 billion) to their checking accounts, a 100% increase, in about 18 months. Another 2.2 trillion pesos appeared in special tax-free savings accounts run by the pension-fund managers themselves. Those special savings funds expanded 140% since February 2020.