How a Last-Minute Raid Derailed Noble Group's Story of Rebirth
(Bloomberg) -- Executives at Noble Group Ltd. had been counting down the days until they turned the page on one of most spectacular collapses in the world of commodities. Then the police arrived.
The surprise raid by Singapore's white-collar crime unit on Nov. 20 was coupled with an announcement that the city-state was investigating "suspected false and misleading statements" by Noble. It plunged the company's critical $3.5 billion restructuring deal into crisis after more than a year of painstaking negotiations.
At stake was not only the future of Noble, but also the profits and reputations of the dozens of lawyers, advisers and hedge funds involved in a transaction that was designed to draw a line under a saga that has captivated the industry over the past four years. They sprang into action.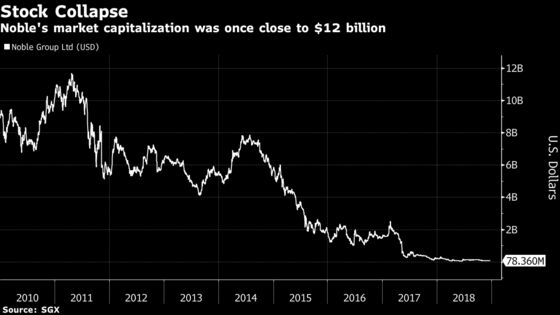 In a matter of hours, Joe Swanson, the senior managing director of Houlihan Lokey, adviser to Noble's hedge fund creditors, was on a plane to Singapore. It was to be the first of three trips in as many weeks, as a flotilla of lawyers and bankers criss-crossed the globe to save the deal.
A few weeks later, they were gathered in a small courtroom in Bermuda's neo-classical Supreme Court to hear the island's highest judge declare Noble was insolvent. Describing it as "an exceptional case," Chief Justice Narinder Hargun agreed to push through Noble's debt restructuring after Singaporean authorities refused to allow it to list its shares.
Noble finally emerged from restructuring on Thursday, bruised, though still alive. Its future remains in question.
"It's not dead yet, but it's a zombie with an axe in the head," said Arnaud Vagner, whose reports under the name Iceberg Research questioned the company's accounting and started Noble's spiral downwards. "The fact it will not be listed creates a serious headache."
Noble grew from nothing to become Asia's largest commodity trader in a couple of decades. Once called a "mini-Glencore," it traded enormous quantities of everything from coffee to coal.
Its downfall was every bit as spectacular as its growth. Starting in 2015, it battled with allegations it had inflated its profits, followed by billions of dollars of losses and writedowns that sapped investor confidence.
The company's creditors and advisers had spent countless hours and air miles haggling over the details of the debt restructuring over the previous 18 months. In the process, they'd fended off challenges including resistance from Noble's founder Richard Elman and a lawsuit from one of the company's biggest shareholders.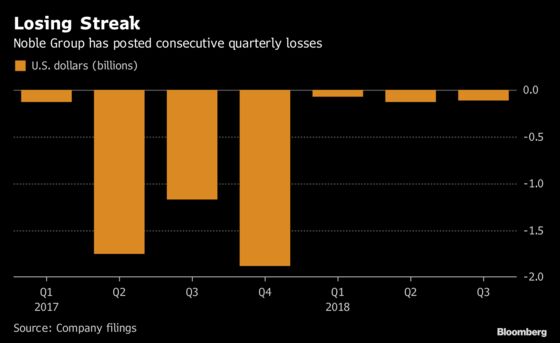 The Singapore probe came as a complete surprise, according to people close to the company and its advisers, but its focus was anything but new. In 12 pages of questions, Singapore's accounting regulator grilled Noble. A particular focus was its booking of mark-to-market profits, a way of assigning value to commodity contracts based on a prediction of future prices.
That was the issue raised by Vagner's Iceberg Research in early 2015 in a series of reports alleging that Noble had inflated its balance sheet and comparing it with failed energy trader Enron Corp. The key claim was that Noble had aggressively booked profits on long-term commodity contracts that would not materialize for years, if at all.
In response to the criticism, Noble hired PricewaterhouseCoopers LLP, which said Noble's valuation methods complied with international accounting rules and the trader needed to improve its governance and methodology.
At the time, Singaporean regulators said little in response to the allegations from Iceberg. Today they're echoing his concerns.
"Our queries are to establish whether fair value accounting should be applied to marketing contracts, and whether mark-to-market gains should be recognised at the inception of the commodity contracts," said a spokesperson for the Accounting and Corporate Regulatory Authority, or ACRA.
A tense few days of meetings in Singapore gave Noble and its creditors some hope that not all was lost. The company secured two weeks' breathing room to persuade regulators to let its restructuring go ahead. That required the consent of the Securities Industry Council, a sign -- it seemed -- that Singapore wasn't determined to kill the deal.
Noble mounted a robust defense of its accounting in a 30-page response to the regulator's questions. But Noble was asked to model the impact of applying much more conservative policies to its accounts. The result of the exercise would have been to write off the vast majority of Noble's fair value gains on its commodity contracts, cutting the expected value of the restructured company, "New Noble," by nearly half.
In private, people involved in the deal argued that the Singaporean stance was unreasonably harsh. Noble said its accounting practices were legal and in line with international standards.
Moreover, even if the company's approach to recognising mark-to-market gains had been based on optimistic assumptions in the past, it no longer was. The company had booked nearly $5 billion of losses in 2017, much of it in writedowns. If it was forced to reduce the vast majority of the value of its commodity contracts, then there could be implications for other commodity trading companies.
ACRA dismissed that suggestion. "It's too premature to speculate if this will be an issue for the industry," the spokesperson said, declining to be identified by name as per the regulator's policy.
The mood within Noble turned gloomy in recent weeks, according to employees and people who've spoken to them.
The investigation cast a shadow over Noble's two most senior executives. Chief Executive Officer Will Randall and Chief Financial Officer Paul Jackaman were both directors of the Noble subsidiary that's at the heart of the accounting probe during the period under investigation. Both are due to continue in their roles after the restructuring.
The Monetary Authority of Singapore has said that Noble's officers are part of its probe and people with knowledge of the investigation say that Randall and Jackaman are considered persons of interest. Noble said in a Dec. 7 statement that there were "currently no investigations on any specific individuals." An external media representative said Noble had no further comment.
Noble's commodity traders had been hoping to put the turmoil of the past few years behind them, with a chance to rewrite the company's story. They also had a significant financial incentive: under the restructuring deal, they were due to get 10 percent of the shares in New Noble.
Creditors had committed to provide it with trade finance lines for three years as part of the restructuring deal, and the company and its advisers were still hopeful the company would be attractive to potential acquirers.
But regaining the broader trust of banks and counter-parties would be significantly tougher with the shadow of the Singaporean probe looming over the company.
Mak Yuen Teen, associate professor of accounting specializing in corporate governance at National University of Singapore Business School, said the regulators would have faced criticism if Noble had run into fresh troubles once the restructuring had been completed.
"Once the decision to investigate is made, it is right that it should be announced immediately and the listing of New Noble be blocked," he said. "If the announcement comes after the listing, more investors may have jumped in and I'm sure regulators will also be criticized if a suspension then kicks in soon after its listing."
In a statement on Dec. 6, the Singaporean regulators blocked Noble's plan to relist after the restructuring, ending its hopes of being reborn as a public company, and with them, the restructuring plan.
In meetings that day that lasted until past midnight in Asia, Noble's directors, advisers and creditors settled on a decision: with the listing blocked, the company would have no choice but to file for insolvency, activating a "plan B" method of carrying out the restructuring that had been part of its plans for months.
They mulled various jurisdictions before settling on Bermuda, where Noble is incorporated and far from the reach of potential last-minute interventions by the Singaporean government.
In the end, they need not have worried. The hearing, in a small chamber of Bermuda's Supreme Court, lasted just 30 minutes. The only lawyers to speak were representatives of the company and its hedge fund creditors. Less than a week later, New Noble was born, just in a different form.