Hong Kong Studies Boosting Yuan-Denominated Stocks on Bourse
(Bloomberg) -- Hong Kong is studying an expansion of trading in stocks denominated in the yuan as China pushes to gain broader international acceptance of its currency.
In her annual policy address, Chief Executive Carrie Lam, said the city was looking at expanding channels for yuan flows from mainland China, including allowing trading of yuan-denominated stocks via an established link to markets in Shenzhen and Shanghai.    
Getting more yuan-denominated shares in Hong Kong would eliminate currency risk for mainland investors, and potentially boost trading volumes for Hong Kong Exchanges & Clearing Ltd. 
In its 14th Five-Year Plan revealed in March, China vowed to increase international use of its currency through a prudent, market-driven approach. Efforts to advance yuan trading in Hong Kong has been going on for years with little progress, but now look to be gaining momentum. Eddie Yue, the chief executive of the Hong Kong Monetary Authority, said in a speech last week that the city is studying the issue and that it hopes to come up with a plan "very soon."   
Outflows from Hong Kong have so far dominated in the city's trading link with the mainland. In the first six months of the year, a daily average of HK$48 billion ($6.18 billion) was traded through the southbound stock link, which allows investments outside of China's strict capital controls. The flow in the northbound link was 114.4 billion yuan ($17.8 billion) a day, on average. 
A system known as "dual tranche, dual counter" was launched in 2012 to allow yuan-denominated shares, but has so far only been adopted by one company, Shenzhen Investment Holdings. An average of 40,784 of the firm's yuan shares have traded daily this year, 86% below the activity of its Hong Kong dollar stocks.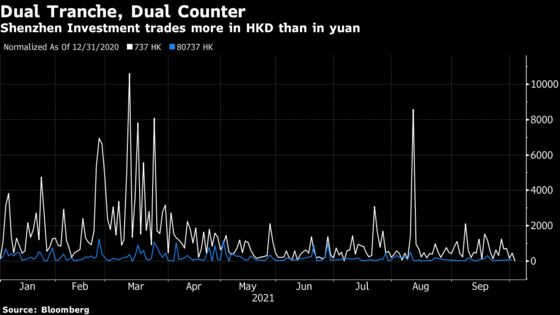 The exchange also offers a number of other yuan-denominated securities. At the end of 2020, a total of 119 such products were available, which was down 5.6% from a year earlier. That included one equity, 75 debt securities and 42 exchange traded funds. They had a total turnover of 15.5 billion yuan last year, with ETFs accounting for 84% of the volume, according to HKEX data. 
The city's financial regulator, Securities and Futures Commission, is setting up a working group with the HKMA and the exchange to conduct a feasibility study on promoting trading of RMB-denominated securities in Hong Kong, it said in a statement on Wednesday.    
"We will also work with the mainland authorities to explore the inclusion of RMB counters in southbound trading under Stock Connect," the regulator said. 
HKEX Chief Executive Officer Nicolas Aguzin said the bourse welcomed the government's support for the expansion of its stock connect programs and the growth of the bourse as a center for yuan-denominated products.
HKEX dropped 0.6% to HK$471.2 on Wednesday in Hong Kong. 
K.C. Chan, the city's former Financial Services and Treasury Secretary, said starting with brand new yuan-denominated products would be the best way of build volume. Derivatives tracking Chinese A shares, which are already traded in yuan, could be an option, said Chan, now an adjunct professor of finance at the Hong Kong University of Science and Technology. 
Initial public offerings and listed shares are traded in the local currency with great efficiency, he said in a phone interview. "There isn't so much interest to denominate them in another currency." 
Previous efforts were largely led by the exchange, while the government and the central bank "held no view," Chan said. The market was not very interested either, he said. 
Shujin Chen, an analyst at Jefferies Financial Group Inc., said having a new yuan counter would be appealing and help reduce currency risk, but the cost is still minimal. 
"Whether allowing southbound capital to invest would encourage companies to issue yuan-denominated shares is also in doubt," she said. "The initiative may help yuan internationalization considering potential support from 'national teams' while global investors would probably still prefer the Hong Kong dollar for its free convertibility."