Hong Kong Stocks Nearly Recover Post-Holiday Losses With Rally
(Bloomberg) -- Hong Kong stocks are just one strong day from erasing the rest of their post-Lunar New Year decline, as investors continue to shed their worry about the coronavirus in China.
The Hang Seng Index finished 2.6% higher Thursday, the largest gain in five months and leaving it 1.6% below its closing level before last month's holiday break. The deadly virus fueled a three-day, 5.9% drop in the benchmark last week, the biggest such decline since early August.
The index also closed back above its key 200-day moving average Thursday after falling below it a week ago.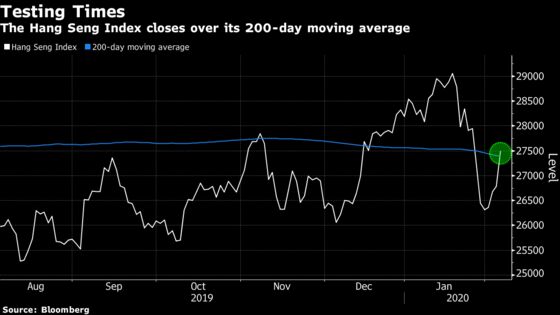 Thursday's rally came as part of strong gains across Asia on lessened concern about the virus as well as China announcing tariffs on some U.S. goods will be halved as of Feb. 14. Gains of more than 2% pushed Japan's Topix back into the green for 2020 while a near 4% pop for China's tech-heavy ChiNext Index put it at the highest level since December 2016.
The Hang Seng China Enterprises Index, which includes mainland companies listed in Hong Kong, also finished with a 2.6% advance Thursday. It's now 1.9% below its pre-holiday level.