Fed Rally Fizzles as Hong Kong and Mainland China Stocks Slide
(Bloomberg) -- Thursday morning's gains in stocks proved short-lived in Hong Kong and mainland China, as selling accelerated through the afternoon.
The Shanghai Composite Index dropped 1.3 percent, its biggest loss this week despite advancing 0.6 percent earlier in the day, while the Hang Seng Index dropped 0.9 percent, reversing its morning rally. The Shenzhen Composite Index slid 2.2 percent. Equity markets in the rest of Asia were higher, spurred by dovish comments overnight from Federal Reserve Chairman Jerome Powell.
The Hang Seng Index is still up 5.9 percent in November, making it one of the top equity benchmarks worldwide. But a wave of selling from across the border is keeping Hong Kong stocks' world-beating performance in check.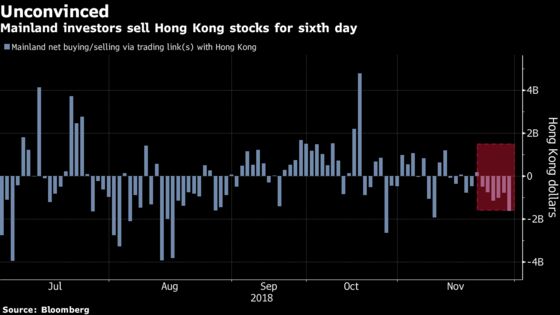 Mainland investors have been selling Hong Kong's latest rebound, dumping a net $748 million of the city's shares via exchange links in six days, the longest selling streak since August. While the Hang Seng Index is on track for its biggest month-on-month comeback in six years -- a recovery that had taken a gauge of buying momentum to a five-month high -- obstacles remain before bulls can take back control. Traders are also waiting for this weekend's meeting between presidents Xi Jinping and Donald Trump.
"Hong Kong stocks have largely priced in expectations of fewer U.S. rate hikes," said Daniel So, a strategist with CMB International Securities Ltd. in Hong Kong. "The key event to watch remains the G-20 meeting, so investors choose to lock in profits amid uncertainties."
As one of Asia's largest and most open equity markets, Hong Kong typically acts as a barometer of global liquidity expectations and macroeconomic concerns. Throw in a currency peg to the greenback and a property bubble, and the city's stocks become even more sensitive to the pace of Fed hikes. China's economy is a concern given rising bond defaults and real estate jitters.
Some strategists remain cautious. JPMorgan Chase & Co. and Goldman Sachs Group Inc. have underweight ratings on the MSCI Hong Kong Index, which doesn't include Chinese companies such as Tencent Holdings Ltd. that dominate the Hang Seng Index.
This month's rally comes after the gauge was bludgeoned by concern that tightening U.S. monetary policy and a slowing Chinese economy will hurt earnings. The Hang Seng gauge is still down 12 percent this year, though it's done a lot better than the Shanghai benchmark, which languishes at the bottom with a 22 percent loss.
Sentiment could remain volatile ahead of the G-20 meeting as investors await developments on the trade dispute, said Shen Zhengyang, an analyst with Northeast Securities Co.