Hong Kong to Retain Title of World's Priciest Office Market
(Bloomberg) -- Hong Kong will retain its mantle of the world's most-expensive office market in 2019 even though rents are expected to soften.
That's according to Knight Frank LLP, which Thursday released its latest global office market outlook report.
"An uncertain China-U.S. trade relationship and the mainland's own market challenges have curtailed demand from some mainland firms for prime office space," said David Ji, the firm's head of research and consultancy for Greater China. While rents in Hong Kong's Central district could drop by as much as 7 percent this year, the city's close business ties with the mainland will prevent a larger slump, Ji said.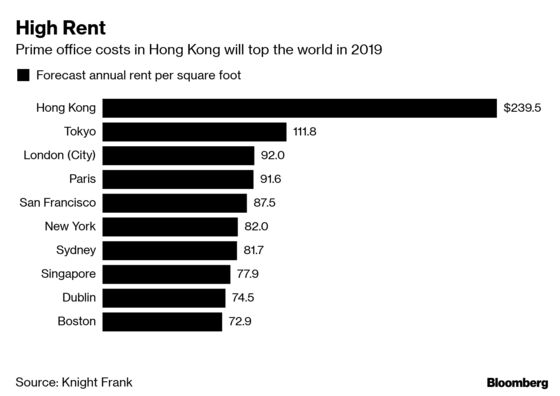 Elsewhere, Melbourne and Sydney will see the largest office rental growth in 2019 with costs expected to rise 10.1 percent and 8.6 percent respectively. Employment growth and fewer development completions in recent years have led to tight supply in the two cities.
At the other end of the spectrum, Kuala Lumpur, Bengaluru, Jakarta and Warsaw are among the centers forecast to have the cheapest office rents in 2019.