Hong Kong October Unemployment Holds at 15-Year High of 6.4%
(Bloomberg) -- Hong Kong's unemployment rate was unchanged in October as the city struggles to emerge from a deep slump triggered by political unrest and the coronavirus outbreak.
The jobless rate for the August-to-October period held at 6.4% for a second month, matching a high from January 2005, according to a government report Tuesday. The reading is better than the 6.6% median forecast in a Bloomberg survey of economists. The underemployment rate also remained unchanged at 3.8%.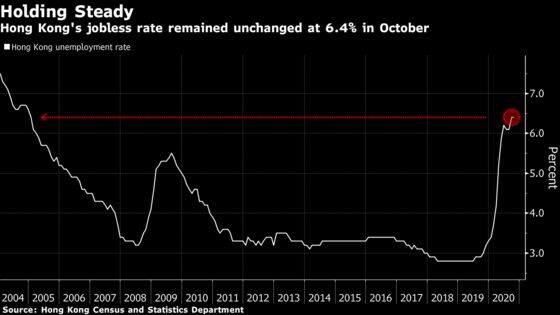 Unemployment has shown signs of stabilizing in recent months, including an unexpected drop in July and no change in August. The city's economy has been under pressure for more than a year following anti-government protests and then months of stringent social- distancing measures to control the Covid-19 outbreak.
There are nascent signs of a recovery although the economy has some way to go to return to pre-pandemic levels. Gross domestic product rose 2.8% in the third quarter from the previous three months, in part from a surge in exports to the mainland. On a year-on-year basis, GDP still declined 3.5%, with the government forecasting a 6.1% contraction for the full year.
"While the overall economic situation saw some improvement in recent months, hiring sentiments among employers would probably remain cautious, especially when the economic outlook is still clouded by the evolving pandemic situation," Secretary for Labour and Welfare Law Chi-kwong said in the report. "Labor market conditions remained difficult, but showed further signs of stabilization as the local epidemic situation stayed contained during that period."
Total employment rose by about 2,900 to 3.63 million, while the labor force increased slightly to 3.89 million. The number of unemployed fell by about 2,000 to 257,800.
Joblessness in transportation rose to 6.2%, the highest in almost 17 years. Cathay Pacific Airways Ltd. said in October it would slash more than 5,000 jobs and close a regional carrier in a massive restructuring stemming from the coronavirus outbreak.
The unemployment rate in the hard-hit retail, accommodation and food services sectors declined by 0.5 percentage points to 11.2%.