Hong Kong's Lam Not Optimistic on Lasting U.S.-China Trade Deal
(Bloomberg) -- Hong Kong's chief executive Carrie Lam said she wasn't "too optimistic" that the U.S. and China can reach a lasting trade deal before their three-month truce expires in March.
During recent discussions she held with U.S. officials and business people, it became clear to Lam that fundamental issues beyond the trade deficit still need to be addressed between the two sides, she told Bloomberg Television at the World Economic Forum in Davos, Switzerland, on Tuesday. "I doubt those fundamental problems can be addressed in a short period," she said.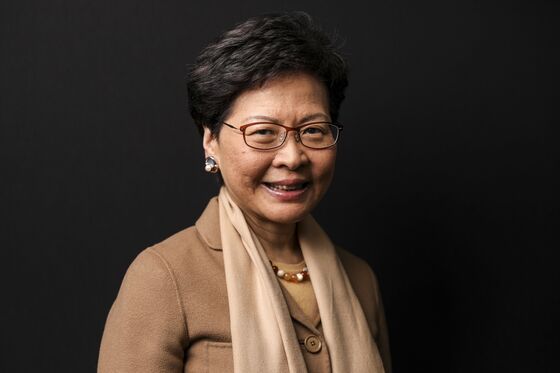 The U.S. and China held mid-level trade talks in Beijing earlier this month, but people close to the discussions have said they made little progress on U.S. allegations of state-coordinated Chinese theft of American intellectual property.
The next round of talks is scheduled for Jan. 30-31, when Vice Premier Liu He visits Washington to meet U.S. trade czar Robert Lighthizer and Treasury Secretary Steven Mnuchin.
Business groups in Hong Kong are worried the Trump administration will open the door to ending the financial hub's preferential trade status amid the trade war, rendering it "just another Chinese city" as Lam's government gets closer to Beijing. Hong Kong has also been forced to defend its free speech protections after a series of Beijing-backed efforts to restrict dissent in the former British colony, which returned to Chinese rule in 1997.
Hong Kong was on track to meet its 3.2 percent economic growth forecast for 2018, but reaching 3 percent in 2019 "would be a challenge," Lam said. Hong Kong's financial secretary will make this year's official forecast next month, she said.
Lam said high property prices and a shortage of land are the greatest challenges facing the city. "Creating land and laying out transport infrastructure requires a lot of investment," she said. "That would be a helpful stimulus" to the economy, she said.
Hong Kong has been named the world's least affordable housing market for a ninth straight year, according to a report released this month by Demographia, an urban planning policy consultancy. The city's median property price climbed to 20.9 times its median household income in 2018 -- up from 19.4 times a year earlier.
Prices have declined 9.8 percent from their peak in August, according to Jan. 18 data from Centaline Property Agency Ltd., fueled by market volatility, rising interest rates and a looming vacancy tax.
Lam said high property purchase and rental prices inhibit business activity, making it hard to attract talent to the city and undercutting the livelihood of residents.
"I feel there is still room for some correction," she said, declining to give an estimate. She said her goal was for a family to be able to spend about 40 percent on mortgage costs.