Hong Kong's August Jobless Rate Held at 6.1% Amid Recession
(Bloomberg) -- Hong Kong's unemployment rate remained at 6.1% in August as the city's businesses continued to struggle amid a prolonged recession and restrictions put in place to combat the coronavirus outbreak.
The jobless rate for the June-to-August period was below the 6.3% median forecast among economists surveyed by Bloomberg. This follows a surprise drop in the unemployment rate in July after nine straight months of increases.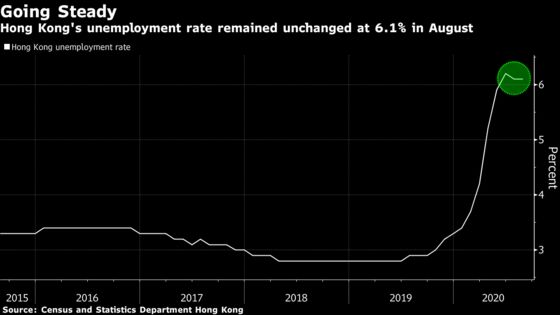 Total employment grew by about 3,400 to 3.64 million people in August, while the labor force also increased by about 9,300 to 3.89 million as more people looked for work and some found it. The number of unemployed people rose slightly to 248,300.
The underemployment rate jumped to 3.8% from 3.5% in the prior period.
There may be some positive news on the horizon, however.
Hong Kong's latest wave of Covid-19 infections began to slow toward the end of August and the government this month has gradually lifted social distancing measures that have pressured restaurants and shops.
"The labor market will remain under pressure in the near term," Secretary for Labour and Welfare Law Chi-kwong said in the government release. "While the local epidemic situation has started to ease gradually in September, the global pandemic is still fluctuating in a rising trend and the overall economic situation remains weak."
The city's economy is stuck in a downturn following a year of political unrest worsened since late January by the virus outbreak. The government this week announced a HK$24 billion ($3.1 billion) round of virus stimulus, its first since April.
Job losses continue to rise in the hardest-hit industries. The unemployment rate for consumption and tourism-related sectors inched up 0.1 percentage point to 10.9% in August, the highest since the onslaught of the SARS epidemic, Law said.