Hong Kong's Economy Gets Stuck Between U.S.-China Trade War
(Bloomberg) -- Hong Kong has long marketed itself as the gateway into China for foreign businesses, especially the U.S. With a trade war now raging between the world's two largest economies, that's precisely the problem.
Having shifted its factories across the border decades ago to benefit from cheaper labor, Hong Kong now finds its role as a trade conduit to be a source of concern. Products destined for China and the U.S. passing through the city accounted for almost 10 percent of its roughly $500 billion in exports last year, according to the Hong Kong Trade Development Council.
The import-export business overall represents almost a fifth of the domestic economy, and worsening sentiment on the mainland can spill over into the former British colony in other ways -- most obviously tourism spending. Add the trade war threat to an already-inflated property market, and Hong Kong's economy begins to look fragile.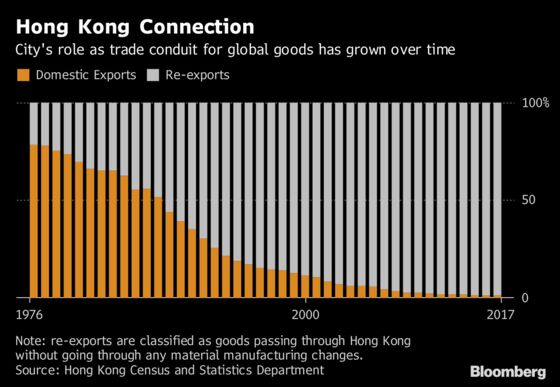 "These are the two biggest traders in the world, and they trade through us with each other," said Nicholas Kwan, director of research at the Hong Kong Trade Development Council. "So when they are fighting, a lot of intermediaries get hurt, and we are the most prominent intermediary between these two."
The immediate effect of the worsening of the trade conflict this year is hard to disentangle from already-slowing activity, but it's clear that metrics such as container throughput will continue to suffer if the tariff war drags on.
Gross domestic product grew 3.5 percent in the second quarter from a year ago, compared with a revised 4.6 percent in the first, according to government data. Looking forward, the Nikkei Hong Kong purchasing managers' index slipped further into contraction territory in September.
The HKTDC cut its forecast for Hong Kong's 2018 export growth to 3 percent from 6 percent after its latest quarterly export sentiment index reading for September plunged a record amount, from an expansionary 54.1 in the second quarter to 35.8 for the third. Readings below 50 indicate a majority of exporters expect contracting shipments.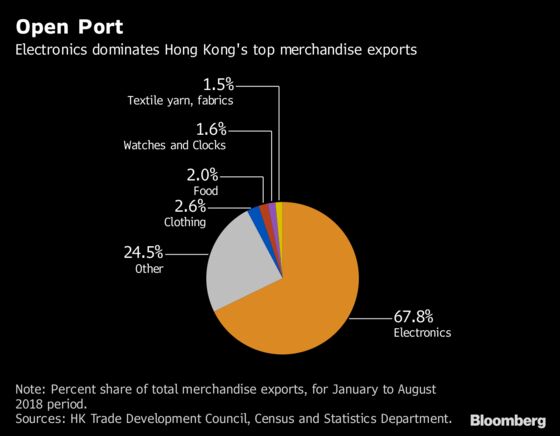 The results underscore the gloom surrounding Hong Kong's trade market, especially in the key electronics segment, which suffered the biggest overall drop to 35.4 from 55.2 in the prior quarter, the report said. The sector makes up almost 70 percent of total merchandise exports.
The trade woes come at a tricky time as the city navigates the impact of a slowing economy in China while borrowing costs are likely to rise due to monetary policy being tied to a hiking Federal Reserve thanks to the city's currency peg.
"We cannot rely on monetary policy," said Iris Pang, Greater China economist with ING Bank NV in Hong Kong. "We have to rely on fiscal stimulus, and now is the right time for the Hong Kong government to spend its fiscal money."
Pang cut her 2018 economic growth forecast for Hong Kong to 3.6 percent from 4.9 percent in August due to the trade war, and may slash her 2019 and 2020 targets as well if the conflict continues, she said. Pang currently forecasts 2.6 percent growth next year and 2.5 percent in 2020. Standard Chartered Bank and United Overseas Bank have also lowered their forecasts for this year.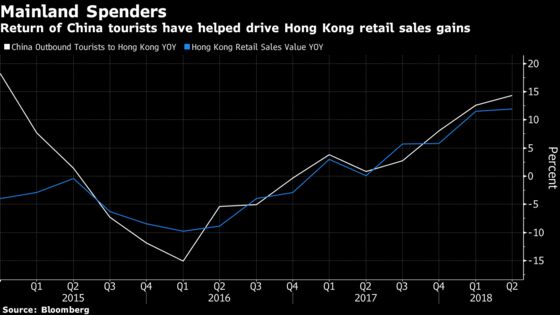 Aside from the direct impact on ports and logistics industries, an extended trade war could also impact retail sales and employment, Pang said. Year-on-year retail sales growth has been surging at rates in excess of 10 percent for most of this year, on the back of similarly strong tourist arrivals from the mainland.
Pang estimates as much as a third of economic activity in Hong Kong may be affected by the trade war, with local businesses running factories in China and exporting to the U.S. especially vulnerable. A weaker domestic economy, higher interest rates, and a dimmer outlook could all contribute to a turning point for the territory's real-estate market, among the world's most expensive.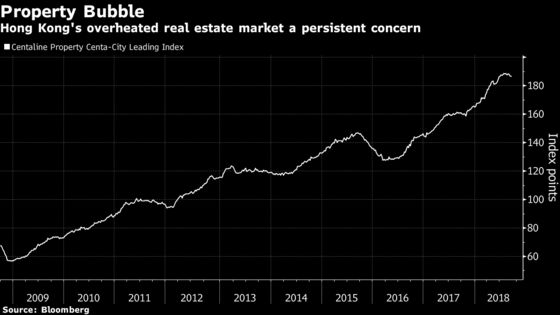 Edward Yau, Hong Kong's Secretary for Commerce and Economic Development told reporters Thursday that the city will have to prepare for an extended trade conflict as it doesn't appear the U.S. and China are headed for a speedy resolution.
"We therefore have to prepare for the worst and for this battle to be played long," Yau said. "The overall global trading environment is not in peaceful water."