The Time Is Prime for Hong Kong Banks to Raise Rates
(Bloomberg Opinion) -- A boon for Hong Kong's banks could turn into an opportunity for the city's hard-pressed savers.
On Thursday, HSBC Holdings Plc, the biggest of Hong Kong's banks, and its subsidiary Hang Seng Bank Ltd., raised their prime rate — the best lending rate on which most loans, including mortgages are based — by 12 basis points. Standard Chartered Plc quickly followed suit, and the city's other large lenders are sure to follow.
Banks also raised their savings rate — and while that's a step in the right direction, this is a measly show. More needs to be done, both because banks can't afford to lose their depositors and it's the right thing to do.
After all seven of the Federal Reserve's rate increases since December 2015, the Hong Kong Monetary Authority, the city's de facto central bank, raised its base rate, while banks kept the prime rate between 5 percent and 5.25 percent. This year, however, the HKMA has been busy defending the U.S.-dollar pegged currency, which has dried up liquidity in the once-flush banking system. That's what spurred most of the city's big banks to act for the first time since 2006.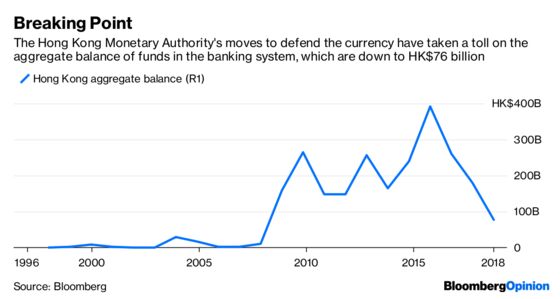 This increase in the prime rate should be good for the likes of HSBC; BOC Hong Kong Holdings, a unit of Bank of China; Hang Seng; and Standard Chartered, which among them dole out 80 percent of the city's mortgages. But it also brings forward a day of reckoning for the banks, who have gotten away with providing pitifully low rates for savers since the financial crisis. The big banks have only increased rates on their time deposits, which lock up money for a set time.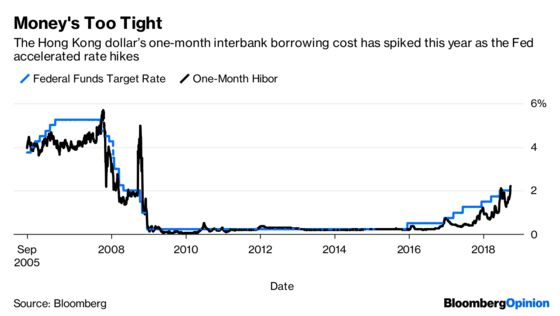 Until Thursday's moves, the city's small lenders, which don't have the same deep deposit base, were the only ones to make changes. On Sept. 6, OCBC Wing Hang Bank Ltd., part of Singapore's Oversea-Chinese Banking Corp., said it would raise savings rates to 0.25 percent from 0.01 percent, marking the first time since 2008 that a local bank has adjusted the passbook savings rate. 
Yet competition is coming from virtual banks and fintech giants, like Jack Ma's Ant Financial. Hong Kong's large lenders are close to losing their stranglehold on deposits. And there's plenty to be grumpy about: Accenture research last year showed only 53 per cent of Hong Kongers enjoy their banks' overall service, much lower than the 88 percent of people in the U.S., 78 percent in the U.K. and 72 percent in Australia.
Some worry that a prime-rate increase will spark a property crash. That seems unlikely. Sure, there might be a slowdown in price rises in one of the world's most expensive cities. But as we've argued in the past, even if Hong Kong banks raise the mortgage rate by 100 basis points by the end of 2019, to 3.25 percent, that's still minimal in a city where unemployment is at a 20-year low of 2.8 percent.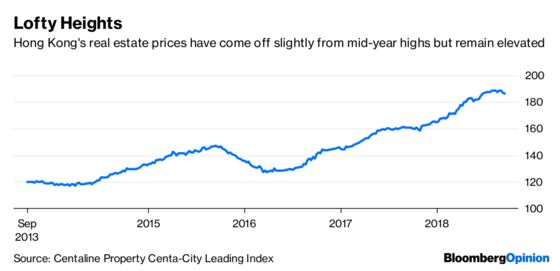 The bigger damage to Hong Kong's insanely high real-estate prices will come from external factors, like the U.S.-China trade war, or a flood of supply from cheap public housing and new developments on farmland. Even Standard Chartered's new 5.375 percent prime rate is well below the 8 percent level we saw before the financial crisis.
After years of growing accustomed to handing out low rates, Hong Kong's biggest banks might begrudge their latest move, which raises funding costs. But times are changing. With virtual banks around the corner, the city's famously sticky savers may become a lot more demanding.
This column does not necessarily reflect the opinion of the editorial board or Bloomberg LP and its owners.
Nisha Gopalan is a Bloomberg Opinion columnist covering deals and banking. She previously worked for the Wall Street Journal and Dow Jones as an editor and a reporter.