Hong Kong Retailer Stocks Missing a Rally Amid Dull Outlook
(Bloomberg) -- Hong Kong retailers are one group of shares being left behind as the city's benchmark stock index trades near a four-month high.
Cosmetics seller Sa Sa International Holdings Ltd. and Chow Tai Fook Jewellery Group Ltd. are near the lowest levels in at least a year versus the benchmark Hang Seng Index, which has climbed 6.5 percent in 2019.
Investor interest in retail stocks has been muted as the opening of new transport links with the mainland failed to translate into a sizable increase in spending by tourists from across the border. Hong Kong retail sales grew just 1.4 percent in November from a year earlier, the slowest pace in 17 months, amid a worsening economic slump and a Chinese crackdown on gray-market imports of luxury goods.
"Hong Kong retailers' sales are much worse than expected," said Emily Lee, Hong Kong-based analyst at Nomura International (HK) Ltd. "It'll be hard for same-store sales to recover in the first half."
Analysts are cutting their share price targets at the fastest pace in years this month, though they still project sales of the city's three major consumer companies will grow around 10 percent in the year ended March.
A test of whether the disconnect between rising tourist numbers and slowing sales growth will come on Wednesday, when retail data for December is released. The number of mainland tourists visiting the city surged 26 percent year-on-year to 4.6 million in November, near the highest since 2014, after the cross-border openings of a high-speed rail link to Shenzhen and bridge spanning the Pearl River Delta.
Retail stocks closed mixed on Tuesday in Hong Kong. Sa Sa fell 1.4 percent, while Chow Tai Fook rose 3.5 percent Luk Fook Holdings International Ltd. added 0.7 percent.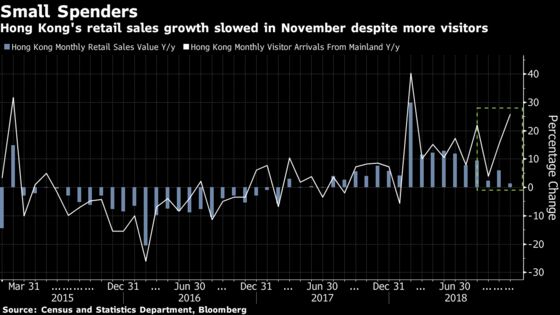 Hong Kong is seeing more daytrippers thanks to the new links, but that's not translating into higher retail sales, Lee said.
Analysts have been tempering their expectations, with the average price target for Sa Sa falling 23 percent in January, in line for the biggest monthly drop since 2008, according to data compiled by Bloomberg. They still project an 8.3 percent gain in the shares over the next 12 months.
Their average price targets for seven major Hong Kong retailers, including Chow Tai Fook and Luk Fook, have been cut by about 8 percent.