Hong Kong Retail Sales Slide for 11th Month
(Bloomberg) -- Hong Kong's retail sales tumbled for an 11th straight month, wrapping a year of anguish for the self-governing territory torn by anti-government protests now morphing into turmoil due to a deadly virus.
Retail sales by value fell 19.4% in December from a year earlier, extending a run of declines that started in February, the longest streak since 2016. The full-year figure dropped 11.1% to HK$431.2 billion. Retail sales volume for the fourth quarter slumped a record 24%, the government said in a release.
Travel curbs triggered in January by the spread of a coronavirus originating in mainland China have further darkened prospects for retailers after the Christmas shopping season's failure to make up ground lost due to months of pro-democracy protests. The city confirmed its first annual economic contraction in a decade on Monday.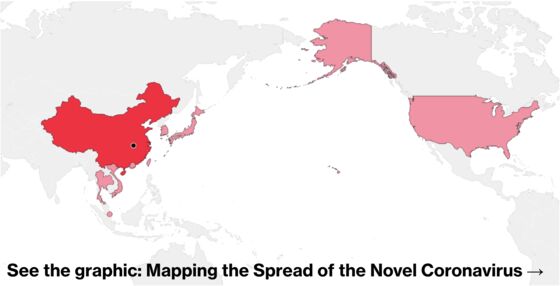 "The near-term outlook for retail sales depends critically on how the situation of the novel coronavirus infection will evolve," the government said in a release, citing the effect on inbound tourism and local sentiment.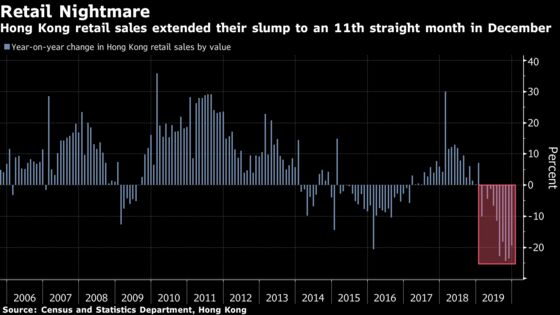 Visitor arrivals from the mainland have evaporated, most recently tumbling 53% from year-earlier levels in December. Luxury retailer Chow Tai Fook Jewellery Group Ltd., the second-largest jeweler in the world, said in January it plans to shut about 15 of its Hong Kong stores after their leases expire this year.
The escalating virus outbreak in China that emerged in January will compound the pressure on Hong Kong's retailers for as long as anti-government protests deter tourism and consumer spending. The effect is being felt right across the nation: on the mainland, companies relying on boosts from Lunar New Year spending will suffer badly.
"The impact is grievous," Alain Lam, finance director with Oriental Watch Holdings Ltd., said Monday, before the retail data were released. "Mainland tourists have declined significantly in the past months. Right now even local customers are staying at home and don't want to go out."
Whether the blows will result in a wave of store closures "depends on when the epidemic will end," he said.