Hong Kong Malls Offer Shelter From the Retail Gloom
(Bloomberg Opinion) -- Hong Kong's high-end retail sales have gone from boom to bust. That doesn't mean investors need to avoid the sector this year. There's still growth to be found, and the best route may be shares of mall owners rather than the businesses that are their customers.
The city's retail industry just had its most lucrative year since 2013, with sales climbing 8.8 percent, or $62 billion. Much of that growth was fueled by the 61.1 million tourists, mostly from mainland China, who flocked to Hong Kong to stock up on cosmetics, jewelry and other luxury goods.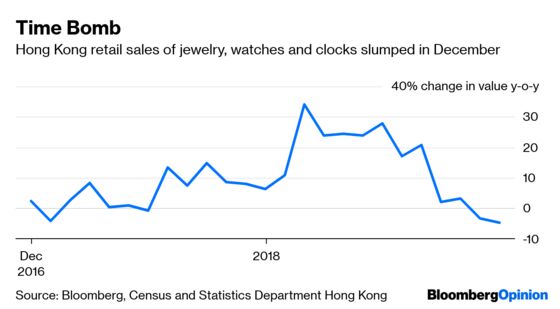 Then December arrived, and with it a serious downturn. Some analysts might call it sluggish, but let's not sugarcoat it: Retail sales were bad. By the end of the month, mid- and high-end retailers reported huge sales drops: 4.9 percent for jewelry and watches, and more than 15 percent in electronics. Blame it on growing concern over the unresolved trade dispute between the U.S. and China, and the weakening of Hong Kong's formerly red-hot property market.
The stock market actually foretold the downturn. Look at cosmetics chain Sa Sa International Holdings Ltd. and Chow Tai Fook Jewellery Group Ltd. Both companies' shares peaked ahead of the weakening in retail sales. Sa Sa reached its 52-week high last June and has fallen close to 50 percent since then, while Chow Tai Fook has dropped almost 40 percent.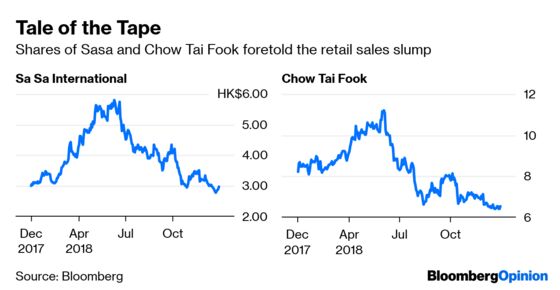 Yet people are still making purchases in Hong Kong, just fewer of the frivolous kind. Steady sales can be found in non-discretionary retail: think groceries, medicine, and education – the type of products and services that consumers have to keep buying whatever the state of the economy. This segment recorded growth of 5.2 percent in the second quarter from a year earlier, and 4.2 percent in the third. With the city's latest jobless rate at 2.8 percent — in other words, close to full employment — and average household income growing in the mid-single digits, this market is poised to perform positively this year.
Rather than investing in specific brands or companies, the smarter way to take advantage of the trend may be to invest via real estate investment trusts, or REITs. Link REIT and Fortune Real Estate Investment Trust are two of the major players in the city.
Link reported rental revenue growth of 6.6 percent in its latest financial report for the six months through September. With a market value of $23 billion, the trust is Asia's largest REIT and generates roughly 92 percent of its revenue from Hong Kong. The rest comes from mainland China. Within Hong Kong, retail properties account for 76 percent of its revenue, with 19 percent coming from parking lots and the remainder from commercial real estate.
A component of Hong Kong's benchmark Hang Seng Index, Link was one of the gauge's best-performing stocks in 2018. Its shares rose 9.5 percent and the company paid dividends equal to 3.6 percent of the starting stock price, for a total return of 13.1 percent. Over the same period, the index lost 13.6 percent.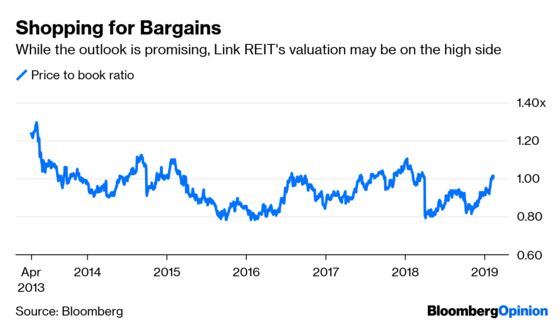 While Link's outlook is promising, its stock valuation may be on the high side. Trading at close to book value and with a dividend yield of about 3 percent, investors would be wise to wait for a drop before buying.
Fortune REIT, an affiliate of Li Ka-shing's CK Asset Holdings Ltd., may be a cheaper option. The stock dropped 6.9 percent last year, leaving a negative total return of 1.6 percent after accounting for a dividend yield of 5.3 percent. The company, with a market cap of about $2.4 billion, operates 16 malls and shopping centers in Hong Kong.
 A look at Fortune's portfolio mix shows a preference for tenants that deal in non-discretionary goods and services: 26 percent are in the food and beverage industry, another 22 percent provide essential services and education, and 21 percent are banking tenants. Sports, fashion, and gifts account for a combined total of only 11 percent.
Trading at a price-to-book ratio of about 0.6 times and with a dividend yield of about 5 percent, the REIT may have been overlooked by many investors in favor of its much bigger competitor. This may be an occasion when fortune favors not only the brave, but also the safe and conservative.
This column does not necessarily reflect the opinion of the editorial board or Bloomberg LP and its owners.
Ronald W. Chan is the founder and CIO of Chartwell Capital in Hong Kong. He is the author of "The Value Investors" and "Behind the Berkshire Hathaway Curtain."