Hong Kong Jobless Rate Hits 15-Year High Amid Virus, Unrest
(Bloomberg) -- Hong Kong's unemployment rate rose to the highest level in 15 years in May, in the wake of the coronavirus shutdowns and renewed anti-government protests.
The jobless rate rose to 5.9% for the March-to-May period, compared with the 5.5% median forecast among economists surveyed by Bloomberg. The underemployment rate climbed to 3.5%, the highest in almost 17 years, according to the government release.
Unemployment in the city is the worst since April 2005, when Hong Kong was recovering from the SARS virus outbreak. It tops the post-financial crisis peak of 5.5% in August 2009, the data show.
"While the local epidemic situation has abated, it will take time for local economic activities to return to normal," said Hong Kong Secretary for Labour and Welfare Law Chi-kwong in the government report. "The external environment also remains difficult as the pandemic continues to weigh on the global economy."
The labor market will face pressure in the near term but the pace of deterioration may slow, Law said.
Year-on-year declines in total employment and the labor force widened to 6.5% and 3.3% respectively, both the biggest on record, the government said. The number of unemployed people has increased by more than 100,000 since December, to about 230,000.
Unemployment in consumption and tourism-related industries climbed to 10.6%, the highest since October 2003 in the wake of the SARS crisis while underemployment in the sector hit a record 6.3%. Joblessness in the food and beverage sector worsened to 14.8%. Conditions in most other industries also weakened, especially in construction.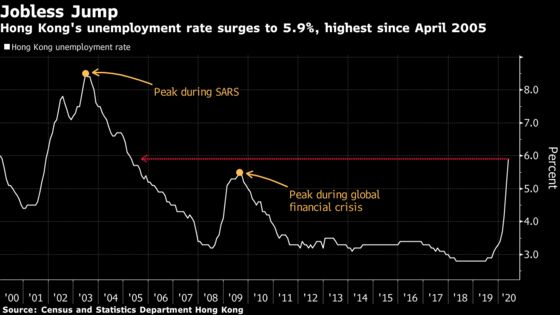 Hong Kong's jobless rate has continued to rise despite recent indicators hinting at signs of a brighter economic outlook for the city, albeit while still showing a contraction.
The IHS Markit purchasing managers' index jumped to a four-month high of 43.9 in May, after remaining below 40 for three straight months, in part because coronavirus restrictions eased and a government wage-subsidy program took effect. A reading of sentiment among Hong Kong's smaller businesses showed improvement in May, up for a third straight month to 41.9. Sentiment among retailers rose to the highest since 2018.
While Hong Kong was successful in keeping the coronavirus outbreak under control last month, with confirmed cases holding below 1,100 by the end of May, there was a return to the political unrest that had sunk the economy into a recession last year.
Tensions escalated after Beijing moved forward with plans to impose a new national security law aimed at cracking down on dissent in Hong Kong. The U.S. in response said it can no longer certify that Hong Kong is largely autonomous, and warned it could remove the city's special trading status.