Hong Kong Intervenes to Defend Peg for Fourth Day This Month
(Bloomberg) -- Hong Kong intervened to defend its currency peg for the fourth day this month, as the local dollar fell to the weak end of its trading band with the greenback.
The Hong Kong Monetary Authority bought HK$2.79 billion ($355 million) of local dollars during New York trading hours on Monday, adding to an earlier purchase of HK$3.93 billion, according to the de facto central bank's page on Bloomberg. That took its purchases to HK$25.3 billion in August, the first month it has intervened since May. The aggregate balance of the city's banking system will drop to HK$84.2 billion on Wednesday.
"The weakness is likely driven by carry trade activities, as liquidity in Hong Kong remains ample after the previous interventions this month," said Carie Li, Hong Kong-based economist at OCBC Wing Hang Bank Ltd. "Given Hong Kong's strong fundamentals, the market expects flush liquidity to sustain for some time. Moving to September, expectations for a wider interest-rate gap may further encourage carry trade as the Fed is set to raise rates."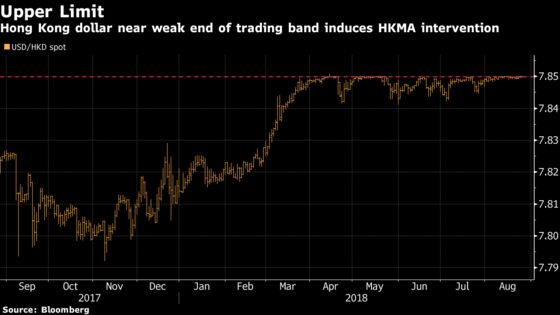 The city's currency was at 7.8499 per U.S. dollar as of 7:57 a.m. local time. The trading band is HK$7.75 to HK$7.85 versus the greenback. The Bloomberg Dollar Spot index was little changed. One-week Hong Kong dollar interbank borrowing costs declined to below 1 percent for the first time since Aug. 15 on Monday.