Hong Kong Recovery Continues With 7.5% Second-Quarter Growth
(Bloomberg) -- Hong Kong's economy grew slightly slower than expected in the second quarter, with the recovery set to get a boost from the distribution of consumption vouchers beginning this weekend.
Gross-domestic product rose 7.5% from a year earlier, following a revised 8% growth in the prior quarter, according to advance data released Friday by the Hong Kong government. That compares with the median estimate of 7.8% in a Bloomberg survey of economists. On a quarter-on-quarter basis, a better reflection of growth momentum, GDP shrank 1%, compared with a forecast contraction of 0.8%.
Final growth figures for the second quarter and the latest GDP forecast for 2021 will be released Aug. 13, the report said.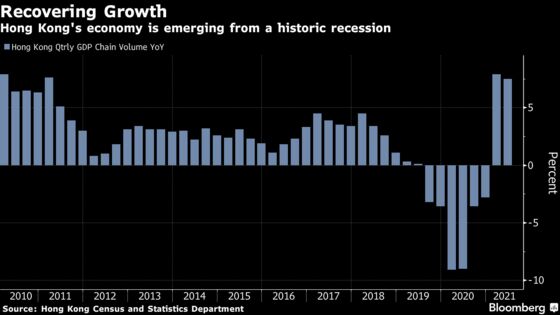 Hong Kong's economy is gradually recovering from a historic two-year recession spurred on by the pandemic and political protests. Retailers and tourism-related businesses have been hit particularly hard with borders shut, and the consumption vouchers are one way authorities are trying to offset that burden.
The uneven recovery has exposed deepening wealth imbalances between the city's working class and elite. Tourism, consumer and services industries are the biggest employers of many of Hong Kong's working class.
"The economic recovery remained uneven in the second quarter," the government release said. "Looking ahead, the global economic recovery should continue to support Hong Kong's exports of goods in the near term, though there may be some moderation from the exceptionally strong performance in the first half of 2021."
Risk factors include the spread of Covid-19 variants and its impact on the global economic outlook, China-U.S. relations and shifting monetary policy from major central banks, while locally the stabilizing virus situation and voucher distribution will support consumption-related sectors, the report said.
The city is now distributing electronic vouchers worth HK$5,000 ($643) to permanent residents and eligible immigrants aged 18 and older to help sustain the recovery. The program will cost the government an estimated HK$36 billion, with Financial Secretary Paul Chan estimating it would provide a 0.7 percentage-point bump to this year's GDP, according to an April government report.
"I do expect a good recovery in private consumption under a stabilized pandemic situation in the second quarter," Aries Wong, a lecturer with Hong Kong Baptist University, said before the GDP report. "We should continue to see a moderate recovery in private consumption and business activities."
The vouchers follow last year's cash handouts of HK$10,000 to residents, but will go only so far in restoring confidence amid the pandemic.
"The scheme's effectiveness may be impacted if the pandemic situation worsens again," Annie Yau Tse, chairman of the Hong Kong Retail Management Association, said before the data.
Local retailers are counting on an influx of business from the initiative.
"The coupons will help with immediate orders and change the sentiment," said Sherman Hung, assistant chief executive officer and chief financial officer of Kidsland International Holdings Ltd., which operates a series of stores in Hong Kong and China. "I hope the shift in sentiment will create a more sustainable environment for us to see the continuous recovery and growth."