Hong Kong Home Prices Enter Correction Territory, for Now
(Bloomberg) -- Home buyers in the world's most-expensive property market may finally have something to cheer about -- Hong Kong's housing market is officially in correction territory.
Secondary home prices have fallen by 9.8 percent from their peak in August, latest figures from Centaline Property Agency Ltd. released Friday show. That puts them at their lowest level since February 2018.
"You can say it's a correction with a 10 percent drop in prices, though it's not a collapse," said Patrick Wong, a real estate analyst with Bloomberg Intelligence.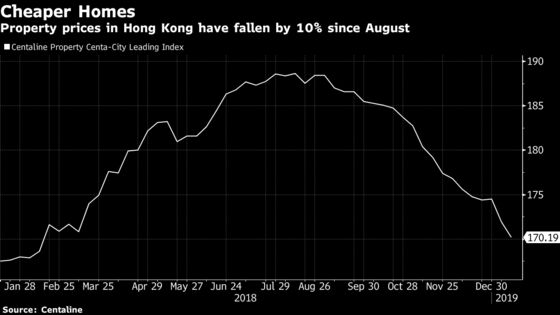 Various factors have combined to put downward pressure on home values, from worsening sentiment due to volatile markets and the U.S.-China trade war, to interest-rate rises and a looming vacancy tax. Prices still probably have about 5 to 10 percent further to drop, Wong said.
The dip has been welcomed by would-be home buyers trying to get on the property ladder as well as government officials concerned about affordability. The question is how long the softness will last, particularly considering demand is still strong and there are growing signs the U.S. Federal Reserve may pause its upward trajectory.
Citigroup Inc. sees signs of prices bottoming in the next two months as buyers begin to unleash pent-up demand, while Morgan Stanley expects a 2 percent rise this year for the same reason.