Hong Kong's Growth Slows With Recovery Hinging on Reopening
(Bloomberg) -- Hong Kong's economy grew at a slower pace than analysts expected last quarter, with the rollout of spending vouchers to residents not enough to keep growth momentum going as the city's borders stay closed. 
Gross domestic product rose 5.4% in the third quarter from a year earlier, a government report showed Monday, lower than the 5.7% median estimate in a Bloomberg survey of economists and down from 7.6% in the previous three months. While the slowdown was largely due to fading base effects, the economy's momentum clearly weakened, with GDP rising just 0.1% on a quarter-on-quarter basis.
The economy faces increasing challenges as the city sticks with a Covid zero strategy that's largely kept borders shut and raised questions about its future as a global financial hub. Growth is set to slow further into next year without an opening up to travel and tourism.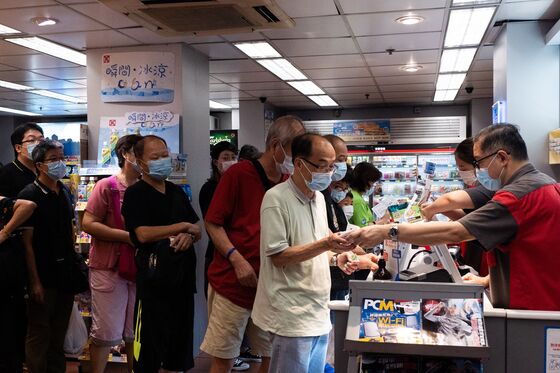 "There's a fair chance that we may slip back into a recession over the next few quarters," said Kevin Lai, chief economist for Asia ex-Japan at Daiwa Capital Markets Hong Kong Ltd. "The momentum is completely lost." Slower growth in China may have also weighed on Hong Kong's goods exports, he said. 
The government said in a statement Monday that inbound tourism remained "virtually frozen," posing a constraint on the economic recovery. Other risks cited included the pandemic and supply bottlenecks.
On the plus side, an improvement in domestic employment and income, on top of the consumption voucher program, should support the consumer sector in the near term, it said.
The first instalment of the HK$5,000 ($643) consumption vouchers helped to boost household spending, which expanded 7% in the third quarter, only slightly slower than the 7.2% gain recorded in the previous three months, the official data showed. Government spending growth accelerated to 4.1% from 3%, while exports and imports of goods as well as investment growth all slowed.
Financial Secretary Paul Chan said on the weekend he expects GDP growth for the year to come in closer to the upper end of the 5.5%-6.5% target range, citing an improvement in employment and the consumer voucher program.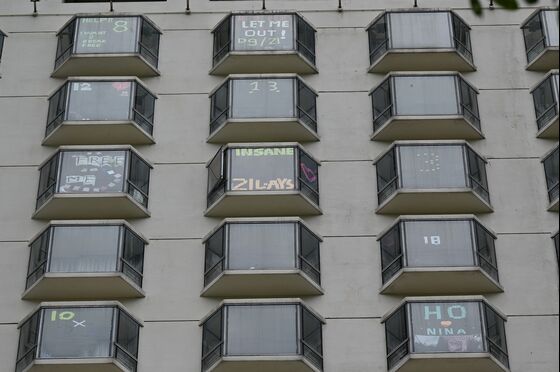 The city's longer-term economic health will depend on how long the government sticks to one of the world's strictest Covid-19 containment regimes. Hong Kong Chief Executive Carrie Lam has repeatedly stressed the priority is reopening the border with mainland China, with the city last week tightening quarantine rules further in hopes of easier cross-border travel.
Foreign business leaders, including the American and European chambers of commerce, have expressed increasing frustration with the lack of progress on loosening quarantine rules that have severely curtailed overseas travel. The number of U.S. businesses with regional headquarters in Hong Kong has slumped to an 18-year low, according to latest official data.
Oxford Economics said it will downgrade its full-year GDP growth forecasts based on Monday's weaker-than-expected figures.
"Further easing of social distancing measures and progress towards quarantine-free travel will be challenging," Tommy Wu, a senior economist at Oxford Economics, wrote in a note. "While close to 60% of the population is now fully vaccinated, the pace of vaccination has ground to a halt, making it difficult to raise the rate further."