Hong Kong Ponders a Belt and Road to Perdition
(Bloomberg Opinion) -- For Hong Kong's de facto central bank, the draw of China is proving too tempting to resist.
The Hong Kong Monetary Authority has for a decade diversified beyond traditional bond and equity investments, into private equity and real estate, as well as a little bit of infrastructure of late. But now, struggling to hack a profit, Deputy Chief Executive Eddie Yue wants to dip into the central bank's war chest to invest in belt-and-road projects.
The so-called Exchange Fund is yet to partner with any of the Chinese state-owned enterprises that are driving Beijing's infrastructure-investment push in more than 80 countries. But the possibility shouldn't be ruled out, Yue said in a speech last week. "We are here to create value — assess and select investment projects with prudence and a discerning eye, yet do not tie our own hands and pass up good opportunities," he said.
While that may sound reasonable, it's anything but. As my colleague Nisid Hajari notes, almost 15 percent of China's belt-and-road projects are already in financial trouble, and given the weak credit ratings of the countries involved, that number is bound to grow. There's little outside validation for these investments, which have proved problematic from Pakistan and Sri Lanka to Malaysia, Thailand and Myanmar. Out of 941 projects tracked by Fitch Solutions, fewer than 100 involve the presence of the World Bank, Asian Development Bank or the International Monetary Fund. 
Sure, there will be some winners, but does Hong Kong have the expertise to pick them?
At HK$4 trillion ($510 billion), the Hong Kong Exchange Fund is sizable. However, as much as 44 percent of it is sequestered as U.S. dollar-denominated, safe and liquid "backing assets" that support the local currency's peg to the greenback.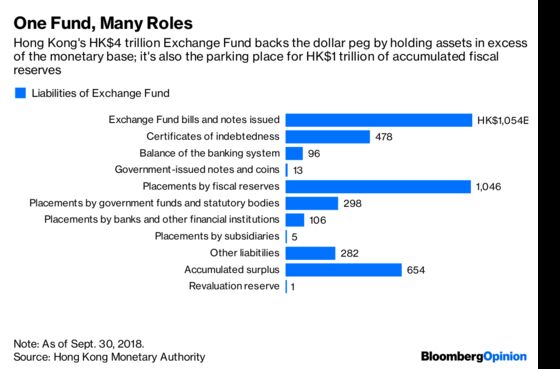 Only a third of the fund's accumulated surplus of HK$654 billion, plus half of a HK$220 billion "Future Fund," is available for the monetary authority's long-term growth portfolio, dominated by private equity and real estate. Exposure to infrastructure is tiny at just $2.2 billion, compared with almost $500 billion of such assets under management at Australia's Macquarie Group Ltd. And when Frank Kwok, the co-head of Asia Pacific at Macquarie Infrastructure & Real Assets, says one of the main drivers of belt-and-road is "for China to exert its influence over the region," and that "financial returns are probably not the top priority," there's reason to ask why a relatively inexperienced custodian of public money is so eager to jump into China's bed.
Among other things, the timing would be awful. China's creeping influence over the special administrative region's affairs is starting to cloud Hong Kong's reputation for rule of law. Chief Executive Carrie Lam was grilled by reporters in Japan about the territory's refusal to renew the visa of Financial Times journalist Victor Mallet, after he hosted a speech at the city's Foreign Correspondents' Club by the leader of a tiny pro-independence political party. 
Waning returns amid rising volatility are a problem for all sovereign wealth funds. Singapore's GIC Pte has seen its 20-year real returns slide to 3.4 percent in fiscal 2018 from 4.9 percent in fiscal 2015. The Hong Kong Exchange Fund's growth portfolio has also not been immune: Internal rates of return, which averaged 15.9 percent in 2013, have slid to 13.7 percent.
Adventures in junk-rated countries are hardly a prudent strategy for shoring up those flagging returns. Besides, where's the need? The world hasn't exactly run out of assets with stable cash flows. Less than six months after taking over from Li Ka-shing, his son Victor Li found a couple: an Australian gas pipeline and UBS AG's London headquarters.
Rather than getting pulled into Beijing's orbit, the city's central bank should work as hard as its tycoons.
This column does not necessarily reflect the opinion of the editorial board or Bloomberg LP and its owners.
Andy Mukherjee is a Bloomberg Opinion columnist covering industrial companies and financial services. He previously was a columnist for Reuters Breakingviews. He has also worked for the Straits Times, ET NOW and Bloomberg News.