Ant Group's IPO May Push Down Cost of Borrowing in Hong Kong
(Bloomberg) -- Mega share sales in Hong Kong in recent years have typically driven up the cost of borrowing as investors clamor to buy the stocks on margin. Ant Group's upcoming initial public offering may end up doing the opposite.
That's because demand for cash to invest in the offering is likely to push the local currency to the strong end of its trading band, prompting the central bank to sell Hong Kong dollars. This will increase available liquidity, allowing interbank rates to fall. The one-month rate is already low at around 0.26%, compared with about 2.27% at the start of the year, after the Hong Kong Monetary Authority sold more than $15 billion of local dollars since April.
A suppressive effect on borrowing costs will be good for local businesses struggling to survive the effects of last year's protests and the coronavirus pandemic. Alibaba Group Holdings Ltd.'s share sale last year helped boost the one-month lending rate, known as Hibor, to its highest 2008, while Xiaomi Corp.'s offering in 2018 also sent the rate to an almost decade high. Back then, Hibor was lower than its U.S. equivalent, prompting traders to short the currency and the central bank to buy Hong Kong dollars, reducing available funds to lend.
Demand for borrowed cash may drive Hibor higher before the dual-listing, of course. But with the aggregate balance -- a measure of interbank liquidity in Hong Kong -- more than tripling in the past four months to HK$188 billion ($24 billion), banks have a lot more cash to lend this time around.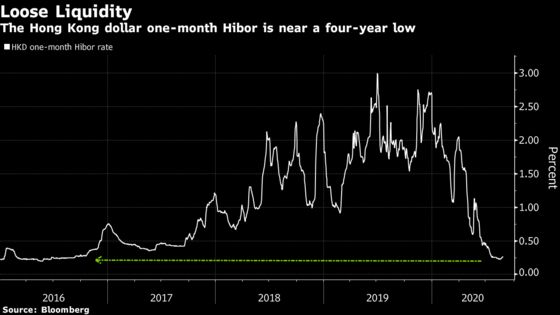 Billionaire Jack Ma's fintech giant Ant Group filed for a dual listing in Hong Kong and Shanghai on Tuesday that could raise a total of $30 billion and exceed Saudi Aramco's record initial public offering.
The Hong Kong dollar has been hovering near the strong end of its trading band since April, shrugging off the death of a long carry trade and escalating China-U.S. tensions. The HKMA's intervention since then has expanded the interbank liquidity pool to the largest since 2017, sending the one-month Hibor to a four-year low.
The Hong Kong dollar traded close to 7.75 at 5:35 p.m. local time. That level marks the strong end of its trading band.