Hong Kong Dollar Slides Most This Year After Surprising Rise
(Bloomberg) -- The Hong Kong dollar weakened the most on an intraday basis since December as traders took profit after the currency's surprising surge last week.
The currency declined as much as 0.11 percent to 7.8187 per dollar, before paring the loss to 7.8150 as of 10:40 a.m. local time. That retreat came after the Hong Kong dollar surged the most since 2003 on Friday, with analysts citing the prospect of higher rates in the city, a buying rush by short sellers hit with stop losses and quarter-end tightening as possible triggers.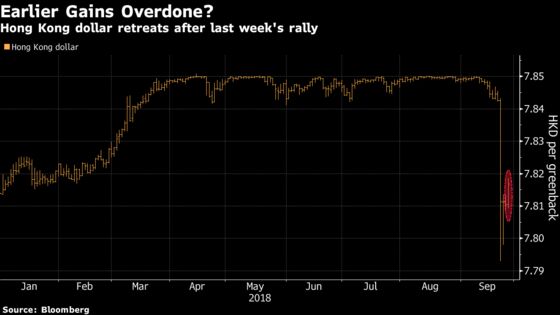 Hong Kong's one-month interbank borrowing costs, known as Hibor, jumped the most since December 2008 on Monday, a move that helped narrow its gap with the U.S. rate to the lowest since June. That's made shorting the local currency a less appealing trade. The spread had helped weaken the Hong Kong dollar for much of this year, prompting the de facto central bank to intervene to keep the currency within its trading band.
"Some traders are buying back the greenback against the Hong Kong dollar, on bets last week's surge was overshooting," said Ken Cheung, a senior foreign-exchange strategist at Mizuho Bank Ltd. The gap between Hong Kong and U.S. rates could widen as the Fed moves to hike rates, so the city's currency may weaken more, trading between HK$7.8 to HK$7.85 in the near term.