Hong Kong Dollar Nears Weak End of Band as Rate Gap Widens
(Bloomberg) -- The Hong Kong dollar inched closer to the weak end of its trading band, as sliding borrowing costs make it lucrative for traders to sell the currency against the higher-yielding greenback.
The local currency slipped 0.01 percent to HK$7.8495 per dollar as of 3:15 p.m. in the city, near the HK$7.85 weak limit of its trading range, which hasn't been touched since September. The Hong Kong dollar's one-month interbank borrowing cost declined for a ninth session, taking the discount to the greenback's interest rate to the biggest in 11 years.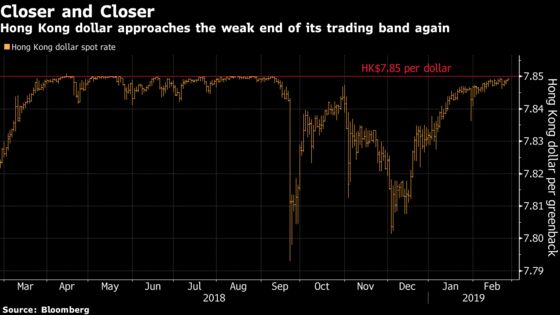 The depreciation may trigger intervention by the Hong Kong Monetary Authority, which is obliged to defend the local exchange rate at the weak end of the trading range due to the city's currency peg. The de facto central bank repeatedly bought the Hong Kong dollar last year, mopping up more than half of the cash supply in the interbank market.
The Hong Kong dollar's one-month interest rate fell 3 basis points to 0.91429 percent Tuesday, taking its discount to the greenback's borrowing costs as of Friday to more than 1.5 percentage points. The local currency has lost 0.7 percent since hitting a peak in September.