Hong Kong Dollar in High Demand on Ant Group's Listing Plans
(Bloomberg) -- Demand for the Hong Kong dollar is swelling before a mega Chinese share sale in the city, ending the currency's brief period of weakness.
The city's currency strengthened to as high as 7.7509 per greenback Tuesday morning, back near the strong end of its trading band at 7.75. That's the case even as its yield advantage over rates on the U.S. dollar shrank to the narrowest since February, making a carry trade less appealing. The local dollar traded at 7.7515 as of 5:25 p.m. Hong Kong time.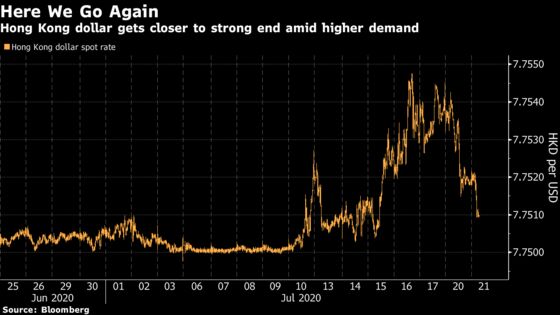 The demand for the currency was boosted by a report that billionaire Jack Ma's Ant Group is seeking a dual-listing in Hong Kong and Shanghai that promises to be one of the largest debuts in years.
The Hong Kong dollar fell to a nearly two-month low last week after the local de facto central bank had sold $13.7 billion of the currency since April to defend its foreign-exchange peg. The intervention pushed interest rates on the city's currency lower, narrowing the premium over the greenback's rates.