Hong Kong Dollar Drops the Most Since 2016
(Bloomberg) -- Hong Kong's dollar weakened the most since February 2016, unwinding some of last week's jump, as a widening interest-rate gap made it more lucrative to borrow the currency to buy the greenback.
The city's currency dropped 0.24 percent to HK$7.8357 per dollar as of 4:55 p.m. local time. That came as the cost to borrow one-month money in Hong Kong's interbank market -- known as Hibor -- slid for a 10th straight day. It's now the cheapest since April 2008 when compared with U.S. rates.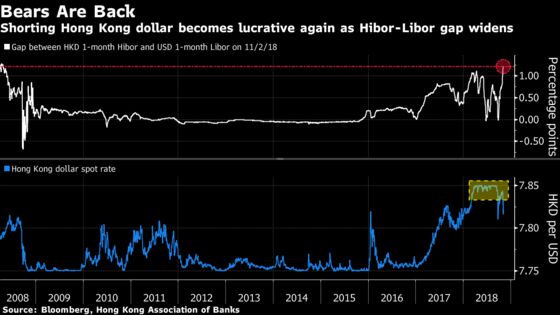 Shorting the Hong Kong dollar has been a popular carry trade this year, repeatedly driving the city's currency to the weak end of its trading band. The city's de facto central bank has intervened, helping to push borrowing costs higher and prompting lenders to increase the mortgage-linked prime rate for the first time in more than a decade, but Hibor has now declined back to levels last seen in June.
"Liquidity is loose again as seasonal factors, such as quarter-end effects and bets on a prime rate hike, got out of way," said Carie Li, an economist at OCBC Wing Hang Bank Ltd. "However, room for further drop in Hibor is limited, and it will likely rise again toward the year-end. Therefore, carry trades shorting the Hong Kong dollar aren't that intense, and the currency won't likely slide to the weak end of the trading band soon."
The one-month Hibor fell 6 basis points to 1.04 percent Monday, widening its discount to dollar funding costs on Nov. 2 to 127 basis points. The Hong Kong dollar advanced the most since September last week amid a rally in the city's stock market. The currency is allowed to trade within a band of HK$7.75 to HK$7.85 against the greenback.